The Church of Jesus Christ of Latter-day Saints, often inadvertently called the Mormon Church, strongly advocates the Cub and Boy Scout programs for boys and young men. Principles of discipline, interpersonal relationships, moral fortitude, and self-reliance learned in Scouting can positively affect the Scout's future life.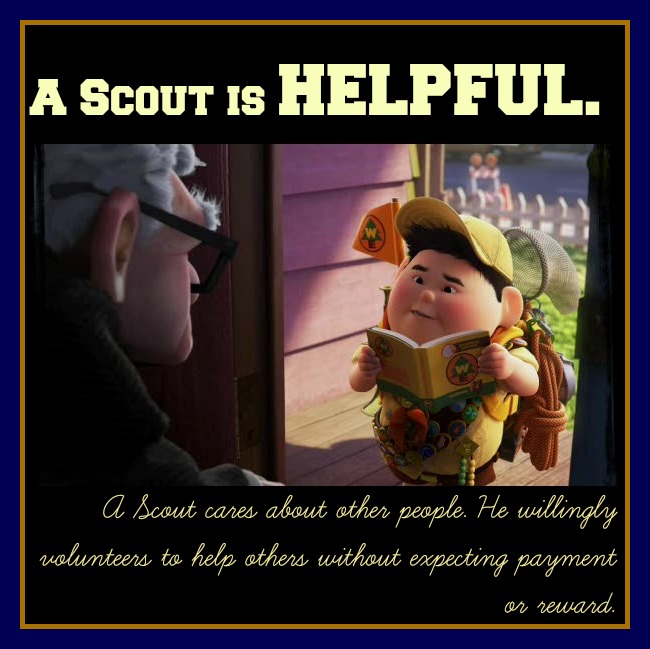 As a woman, and a Latter-day Saint, or Mormon, I appreciate the character strengthening principles of Scouting!  My three brothers are Eagle Scouts. I watched them learn skills—from survival skills to interpersonal skills which increased their confidence.  I noticed their maturity as their attitudes turned more from "What's in it for me?" to "How can I make a difference?"  They still did crazy teenage boy things, but Scouting provided an opportunity for them to learn to value service to others. For example, one brother's Eagle project included organizing police and other county health officials to enable parents to get identification tags from the county and information about their children into the county's database.  Kidnappings were prevalent at the time, so children were fingerprinted and photographed to document their identity.
"Rise Up"
Jason Swensen of the Deseret News wrote an article about a recent Latter-day Saint Boy Scout camp  in Firth, Idaho. The camp emphasized how Scouting principles supplement young men's greater responsibilities as members of the priesthood. If worthy and able, young men are given offices in the priesthood, which is the authority to act in the name of God on earth.  The Church of Jesus Christ of Latter-day Saints organizes young and adult men with specific responsibilities and duties to teach the word of Jesus Christ and to minister to others.
The 2013 "Rise Up" encampment was aptly labeled "An Aaronic Priesthood Encampment Celebrating 100 Years of Scouting in the LDS Church." At first glance, the camp's namesake was a challenge for boys to "rise up" and enjoy Scouting in full. But on a higher, more meaningful level, "Rise Up" was a sacred call to gospel duty for legions of Aaronic Priesthood holders from 58 stakes across western Wyoming and much of Idaho. Camp organizers hope the priesthood principles taught, emphasized and celebrated at camp will remain in the hearts and testimonies of boys long after zip lines, shooting ranges and bicycle races have relegated to digital photo albums.
The Thomas S. Monson Award
At the camp, the Church introduced the Thomas S. Monson Award.  Thomas S. Monson is the Church's 16th president and prophet and has served on Scouting's National Executive Board for 50 years. To receive the award, scouts and their leaders completed two requirements and several electives.  Electives included reviewing Doctrine and Covenants 13 (the D&C is a collection of modern revelations), meeting other scouts at the camp, learning how to prepare for missionary service, and learning about family history research.  Scouts were required to visit Latter-day Saints Visitors' Center tents and read or listen to a talk given by President Monson in 1982 called "Run, Boy, Run."
The Gospel of Jesus Christ Enhances Scouting's Ideals
In that talk, President Monson beautifully illustrated the purpose of "Rise Up" by comparing principles of the Scout Law with teachings of the Savior.
When I think of the Scout Law, I reflect upon the life of one who knew the laws of God and who kept them—even the Lord, Jesus Christ. The twelve points of the Scout Law have their counterpart in the message of the Master.

1. A Scout is trustworthy. What did the Lord say? "I have finished the work which thou gavest me to do" (John 17:4).

2. A Scout is loyal. "Get thee behind me, Satan" (Luke 4:8).

3. A Scout is helpful. "Rise, take up thy bed, and walk" (John 5:8).

4. A Scout is friendly. "Ye are my friends" (John 15:14).

5. A Scout is courteous. "Therefore all things whatsoever ye would that men should do to you, do ye even so to them" (Matthew 7:12).

6. A Scout is kind. "Suffer the little children to come unto me. … And he took them up in his arms, put his hands upon them, and blessed them" (Mark 10:14, 16).

7. A Scout is obedient. "For I came down from heaven, not to do mine own will, but the will of him that sent me" (John 6:38).

8. A Scout is cheerful. "Be of good cheer; I have overcome the world" (John 16:33).

9. A Scout is thrifty. "Sell all that thou hast, and distribute unto the poor, and thou shalt have treasure in heaven: and come, follow me" (Luke 18:22).

10. A Scout is brave. "O my Father, if it be possible, let this cup pass from me: nevertheless not as I will, but as thou wilt" (Matthew 26:39).

11. A Scout is clean. "Be ye clean that bear the vessels of the Lord" (Doctrine and Covenants 38:42).

12. A Scout is reverent. "Our Father which art in heaven, Hallowed be thy name" (Matthew         6:9).
Whether a Scout or not, each of us can "Rise Up" to a higher standard and emulate the Savior's teachings. One of my favorite scriptural examples of the Scout Law is Matthew 25:25-40 as Jesus taught the people who would inherit His Father's kingdom:
 For I was an hungered, and ye gave me meat: I was thirsty, and ye gave me drink: I was a stranger, and ye took me in: Naked, and ye clothed me: I was sick, and ye visited me: I was in prison, and ye came unto me.

Then shall the righteous answer him, saying, Lord, when saw we thee an hungered, and fed thee? or thirsty, and gave thee drink? When saw we thee a stranger, and took thee in? or naked, and clothed thee? Or when saw we thee sick, or in prison, and came unto thee?

And the King shall answer and say unto them, Verily I say unto you, Inasmuch as ye have done it unto one of the least of these my brethren, ye have done it unto me.
If you would like to learn more about how faith permeates the lives of members of The Church of Jesus Christ of Latter-day Saints, I encourage you to contact the Mormon missionaries or visit www.mormon.org.
About Delisa Hargrove
I am a member of The Church of Jesus Christ of Latter-day Saints. I have moved 64 times and have not tired of experiencing this beautiful earth! I love the people, languages, histories/anthropologies, & especially religious cultures of the world. My life long passion is the study & searching out of religious symbolism, specifically related to ancient & modern temples. My husband Anthony and I love our bulldog Stig, adventures, traveling, movies, motorcycling, and time with friends and family.