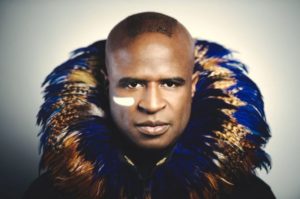 Alex Boyé was born in England to Nigerian parents. When he was 11 years old, his mother told him that she was returning to Nigeria for three weeks. In his "I'm A Mormon" video, he remarks that three weeks turned into eight years. Subsequently, he was raised by foster parents in England who eventually kicked him out at the age of 16, leaving him homeless and aimlessly wandering the streets of London.
In an LDS Living.com interview, Alex recalls, "The only help I got was when I opened up and said 'Heavenly Father, I can't do this on my own.'" It was during those desperate hours of seeking help and guidance that he was introduced to the gospel and baptized a member of The Church of Jesus Christ of Latter-day Saints. He would later serve a two-year full-time mission in the England Bristol Mission.
However, even though he had embraced the gospel and had a music career that was beginning to take off, Alex still felt alone and abandoned by his family. On an "Hour of Power" broadcast, Alex recalled, "It was tough. I had a lot of despair and depression. I felt like all the people I had loved rejected me in some way. It wasn't until years later that I learned the reason my mom left, and then I cried." As a young boy, Alex did not fully understand the sacrifices that his mother made to eke out a meager living. She worked three jobs, including walking the tracks of the underground "with all the rats and everything" picking up trash from 9 pm until 3 am.
In speaking about how he learned to love as Christ loves each of us, and how that love helped him to forgive and love his mother, he remarked:
I look at Jesus Christ, the trials that he went through, and here I am complaining about mine. What we realize is that God's version of good is different than ours. You must go through it; you know what I mean? We're just like, 'Just give me ice cream, that's good,' but I tell you I am grateful for those trials. I am grateful for those times when I was 16 walking the streets of London eating from the trash. I'm grateful for all those experiences [be]cause sometimes when I meet friends or people who are about to give up and I'm like, 'Let me tell you man, all this that you are going through right now, you are going to use it to bless other people.' Sometimes it's not for you."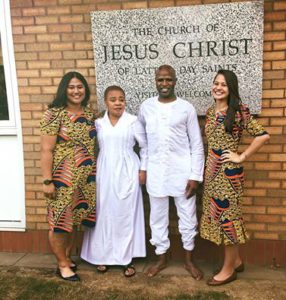 Even though it seemed that his mother had abandoned him, she never forgot about the son whom she loved. She was eventually able to put him in a boarding school and sent money to support him.
The gospel has helped Alex and his mother grow closer, and on Saturday, 9 October 2016, he was blessed to baptize his mother a member of The Church of Jesus Christ of Latter-day Saints in London. He posted about the experience on his Facebook page stating, "So I baptized my mum in London today…Have been waiting for this moment for over 20 yrs. Cried like a baby. BEST. DAY. EVER!!!!"
About Keith L. Brown
Keith L. Brown is a convert to The Church of Jesus Christ of Latter-day Saints, having been born and raised Baptist. He was studying to be a Baptist minister at the time of his conversion to the LDS faith. He was baptized on 10 March 1998 in Reykjavik, Iceland while serving on active duty in the United States Navy in Keflavic, Iceland. He currently serves as the First Assistant to the High Priest Group for the Annapolis, Maryland Ward. He is a 30-year honorably retired United States Navy Veteran.