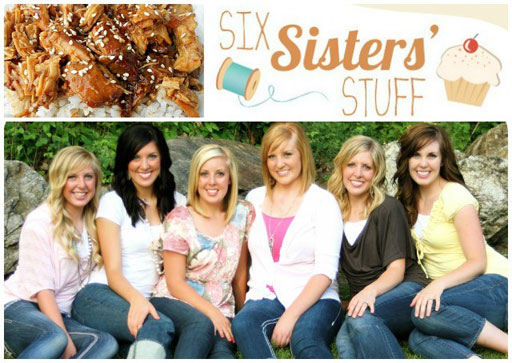 Six Sister's Stuff, comprised of six Latter-day Saints sisters – Camille, Kristen, Elyse, Steph, Lauren, and Kendra – all share a love of simple recipes, crafts, and home decor projects. They created a blog together called Six Sister's Stuff to be able to stay in touch with one another as well as share their creative ideas. In addition to the easy recipes, craft ideas, and home decor projects, their blog also includes travel tips and date ideas.
Their blog is not only an excellent way for the sisters to stay in touch with one another, but it is also used to emphasize the importance of family time and togetherness. Speaking of their blog they write, "We are all busy, whether it's with our kids, jobs, school, husbands, community involvement, or something else eating up our time, so all the recipes and projects you will find on this blog are quick and easy! Our recipes are family favorites that use ingredients commonly found in your pantry. Our crafts and home decor projects can be made with little or no money. We don't claim to be amazing chefs- we just know the importance of feeding your family a home-cooked meal and sitting down to eat it together."
Camille is the oldest sister. She and her husband Jared have been married for ten years and are the proud parents of three children. Camille and Jared met at Utah State University and were married nine months after their first meeting. She graduated with a degree in Elementary Education but later decided that she enjoyed working in retail and managing a business more. However, she does claim to use the things that she learned every day in raising her children. Her husband graduated with a degree in Physical Therapy and is a practitioner in Farmington, Utah. Camille is also a social media consultant for both businesses and bloggers and travels around the nation speaking at various conferences and events. She also enjoys going to the gym, reading, catching up on TV shows with her husband, and eating ice cream outside with her family on warm nights. She currently lives in Utah.
Kristen, the second oldest, has been married to her husband Ammon for nine years. They have three daughters, Addison, Ensley, and Mailey. She is a socially outgoing person and has enjoyed living in five states and meeting different people and making friends. She loves to run marathons, watch soccer, read, craft and spend time with her family. Her favorite food is a store-bought white cake with white buttercream frosting- especially if the icing is thicker than the cake.
Elyse married her eternal companion, Jared, in December of 2008. They are blessed with three beautiful children – Camden (5), Parker (3), and Riley (1). They lived in Logan, Utah, after they were married where Jared attended school at Utah State University. During the summer months, Jared managed a summer sales team, so they lived in Edina, Minnesota, and various parts of California. She loves spending time with her family, hiking, enjoying the outdoors, baking, shopping, jogging, and traveling to warm and exotic places. She also lives in Utah.
Steph graduated from Utah State University with a degree in Communication Studies. She married her husband, Andrew, in 2013, and they lived in Logan, Utah, while he completed his Master Degree in Accounting. In December 2015, they welcomed two new additions to their family, Brooklyn Sophia and Olivia Jane. The family currently resides in Los Angeles, California, where Andrew landed a job with the accounting firm Ernst & Young. Steph loves reading, running – she has completed numerous half marathons, Ragnar Relays, and one full marathon, shopping, traveling and hanging out with her husband watching Psych or The Office and eating Cookie Butter Ice Cream.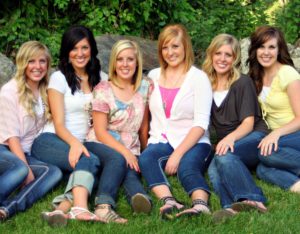 Lauren is a senior at Utah State University where she is studying Family, Consumer, and Human Development. She is a University Ambassador and is afforded the opportunity to share her love of and experiences at Utah State University with students all throughout Utah. She has always had an aspiration to attend cosmetology school and hopes to do so upon graduating. She immensely enjoys meeting new people, going on fun adventures with her roommates, playing tennis, and working out.
Kendra is the youngest of the six sisters. She is currently a sophomore at Utah State University where she is studying Business Communications. She is considered the stylish one of the family and keeps the others up to date on the latest fashion trends. She enjoys playing soccer (or any sport), working out, cooking, shopping, and being with family and friends. And she is also the favorite aunt.
The Six Sister's Stuff blog is updated with fresh content on a daily basis. Each sister takes turns posting one recipe one day of the week – Camille (Sunday), Kristen (Monday), Steph (Tuesday), Lauren (Wednesday), Elyse (Thursday), Kendra (Friday0, and their mom, Cyd, posts the recipe on Saturday. Their mom also responds to all questions and comments on the site. And, just recently, the American retail food chain Kroger turned over its Twitter account to "Six Sisters Stuff."
About Keith L. Brown
Keith L. Brown is a convert to The Church of Jesus Christ of Latter-day Saints, having been born and raised Baptist. He was studying to be a Baptist minister at the time of his conversion to the LDS faith. He was baptized on 10 March 1998 in Reykjavik, Iceland while serving on active duty in the United States Navy in Keflavic, Iceland. He currently serves as the First Assistant to the High Priest Group for the Annapolis, Maryland Ward. He is a 30-year honorably retired United States Navy Veteran.