Without mentioning their last names, when people hear the names Jabari and Ziggy, the first thing that may come to mind is that they are two popular rap or hip-hop singers. However, such is not the case, at least not in this particular case. If the names Jabari and Ziggy are mentioned on the campus of Brigham Young University, sports fans immediately recognize that the persons being spoken of are Jabari Parker and Ezekiel "Ziggy" Ansah. Both are members of The Church of Jesus Christ of Latter-day Saints, and both are sports legends in their own right – Jabari Parker being well known in the world of basketball, and "Ziggy" Ansah being well known in the world of football. Jabari is finishing high school in Chicago and "Ziggy" is a senior at BYU in Provo, Utah.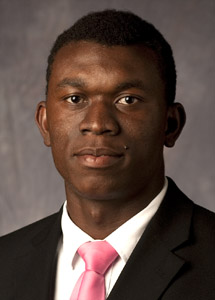 Ezekiel Ansah, the son of Edward and Elizabeth Ansah, was born in Accra, Ghana. His favorite food is fufu and peanut butter soup. He excels at FIFA soccer. He speaks Twi and Fante, two local Ghanaian dialects and surprisingly enough his favorite athlete is LeBron James, the one to whom Jabari Parker is compared with as for his basketball skills and talents. He is majoring in actuarial science with a minor in mathematics. He enrolled at BYU in 2008 and participated on the track team in 2009 before joining the football team in 2010. [2]
Ansah, or "Ziggy" as he is more commonly known, is No. 47 for the BYU Cougars and is a 6-foot-6, 270 pound defensive end/outside linebacker for the team. Before joining the team he had never played the sport of football before, but since joining the Cougars he has excelled, and has gained great recognition as an outstanding player.
Jabari Parker is considered the best high school basketball player since LeBron James and now has many schools, including BYU, wanting to recruit him for their team. While Parker may be projected to be the next NBA all-star, Ansah is projected to be a first-round pick in the upcoming NFL draft.
Notre Dame Color Analyst, Mike Mayock recently remarked:
Before the season, [he] had little to no NFL rating. Right now, he's the buzz of the NFL for the upcoming draft. Apparently, everybody on the West Coast, all their scouts are saying 'Here's a kid that's come from nowhere and might be playing his way into the first round next April.'" [1]
Ansah does not have overwhelming college stats, but then neither did Jason Andrew Pierre-Paul, the son of Haitian immigrants, an American football defensive end for the New York Giants of the National Football League (NFL). However, Ansah is a high-impact edge defender with speed, size, and mammoth upside. "This kid is special off the edge," Mayock said. "No matter who's coming to block him, he's a handful." [1]
In his 2010 sophomore year he earned letterman honors and saw action in six games on special teams and the defensive line. He also had three tackles and a pass breakup, and recorded his first tackle vs. Wyoming, followed by a tackle against New Mexico and Utah. In his 2011 junior year he again earned letterman honors. He played in 12 games on special teams and outside linebacker with a total of seven tackles, including three solo, and the season-best two tackles vs. Idaho. [2]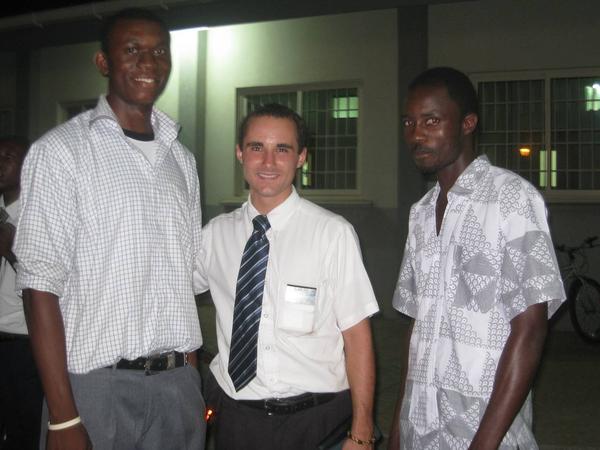 Jeff Benedict, author of such books as The Mormon Way of Doing Business, did a profile on Jabari Parker a few months ago for Sports Illustrated magazine, and recently did a profile on Ezekiel Ansah for Sports illustrated as well. In his article, Benedict introduces Ansah as "The Next Zig Thing," writing about what inspired Ansah back in Ghana in 2007 to get to where he is today.
"He was recruited to BYU by a sophomore serving his Mormon mission in Ghana in 2007, who played pickup basketball with Ansah and thought the Ghanaian's 6-foot-6 250-pound frame would lend itself to football," states the article preview. "Ansah walked on to the Cougars' team in 2010, and over the final nine games of the 2012 season, was third on his team in tackles (48), second in sacks (4.5) and first in tackles for loss (13)." [3]
According to the article, Ansah was first played in a game against Wyoming, and during his very first play in college football, he took down three opposing players without even realizing it.
"Ziggy was not only knocking down players," BYU head coach Bronco Mendenhall told Benedict, "he was 10 yards in front of anyone else on our team. This is a guy I never took seriously, and now we've had more NFL personnel in our facility this year than in my previous eight years put together."

NFL scouts have been closely following Ansah since the beginning of the season, and his performances have not disappointed.

"The combination of his height, weight and speed is probably unmatched. Plus, he's so strong. He's got that Jason Pierre-Paul type of physical upside" one NFL scout told Benedict. [3]
In addition to being a potential first-round pick in next year's draft, as well as a part of the nation's No. 3 defense, Ansah recently gained the honor of being named a semifinalist for the 2012 Burlsworth Trophy, which awards the nation's top player who began his career as a walk-on. [3]
The fact is that the football odyssey of Ziggy is a modern-day Book of Mormon story. Five years ago, Ziggy was an Anglican in Africa who had never seen American football, much less played it. Today, he is a Mormon in America who has a chance to do what the vast majority of college football players only dream of — getting paid to play their sport.

Mormonism, it turns out, was Ziggy's pathway to the gridiron. Ken Frei, a BYU student from Idaho Falls, baptized Ziggy while on a mission in Ghana. But for that, Ziggy doesn't discover America's secular religion — football.

After baptizing Ziggy, Frei encouraged him to attend BYU. Six months later, Ziggy was rooming with Frei in Provo. Frei took Ziggy to his first football game at LaVell Edwards Stadium. Eventually, Ziggy walked on. [4]
The background story to Ziggy becoming a football sensation gets even more interesting. Jon Steven "Steve" Young, a former American college and professional football player who was a quarterback in the National Football League (NFL) for fourteen seasons during the 1980s and 1990s, partnered with Engage Now Africa to build the sports court where missionary Ken Frei and Ziggy met. Young is a member of The Church of Jesus Christ of Latter-day Saints (commonly referred to as the Mormon Church). The school's headmaster was also a Mormon and allowed the missionaries to play pick-up basketball games there. Ansah was working there as a teaching assistant at the time.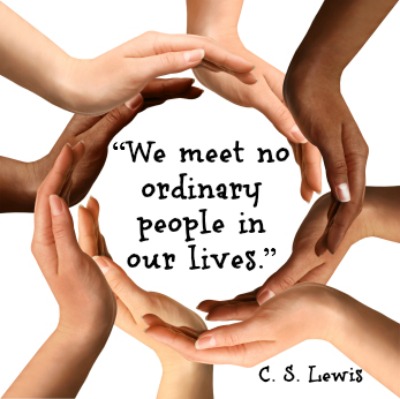 In an interview with Steve Young during the writing of the Sports Illustrated story, Young sted that he had no idea that the court he helped build in Ghana proved to be the meeting place between Ziggy and the Mormon missionaries. "The idea that Ziggy's story began there is heartwarming to all of us," Young said. [4] Ken Frei, return missionary from Ansah's homeland of Ghana, did not set out to convert a football star, for that was not the mission. But, "it is a nice side benefit," he said. [4]
About Keith L. Brown
Keith L. Brown is a convert to The Church of Jesus Christ of Latter-day Saints, having been born and raised Baptist. He was studying to be a Baptist minister at the time of his conversion to the LDS faith. He was baptized on 10 March 1998 in Reykjavik, Iceland while serving on active duty in the United States Navy in Keflavic, Iceland. He currently serves as the First Assistant to the High Priest Group for the Annapolis, Maryland Ward. He is a 30-year honorably retired United States Navy Veteran.