Manti Malietau Louis Te'o, (born January 26, 1991) a linebacker for the University of Notre Dame, is the son of Brian and Ottilia Te'o. Siblings include sisters BrieAnne, Tiare, Eden and Maya and one brother, Manasseh. He is of Samoan descent but grew up on the island of Oahu Hawaii, where he was one of the most decorated high school athletes in Hawaii's history. In 2008, Te'o won the inaugural high school Butkus Award, while also being named Sporting News High School Athlete of the Year.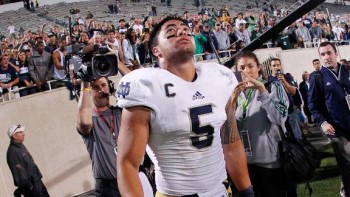 Te'o has been outspoken about the important role of faith in his life. As an active member of The Church of Jesus Christ of Latter-day Saints (Mormon or LDS), he has openly explained how he depended on prayer to select the right college from the 29 college football teams trying to recruit him. Much to his surprise, he received the answer that he should choose Notre Dame University.
Although he didn't understand the reason, he followed that divine direction and can now see that his decision led him to meaningful college experiences, including postseason awards in 2012 that made him one of the most decorated collegiate football players of all time. He was the second place finalist for the coveted Heisman trophy and won the Lott Trophy, Maxwell Award, Chuck Bednarik Award, Walter Camp Award, Bronko Nagurski Trophy, Butkus Award and the Lombardi Award.
"This is where I was meant to be and I wouldn't want to be anywhere else. I'm just grateful that I'm here," he said.
Being a Mormon at a Catholic University didn't prevent Te'o from explaining how his faith helped him deal with the deaths of his grandmother (from a long illness) and girlfriend, Lennay Kekua (from leukemia) within a matter of hours. Although he experienced very personal losses in a very public setting, his determination and dignity endeared him to Notre Dame fans. He showed up to practice every day and spent every moment supporting his team despite his sorrow.
The Boston Globe reported:
"I think Manti passed through the fire, through that furnace of moving from a young man to manhood," his father said.

"I could see in his eyes the stress, could see in his eyes the heartache, and I just got overwhelmed with this immense pride that he could actually find the capacity to set his own personal suffering aside to lead a group that really meant a lot to him, to see through his obligations to them despite going through what he was going through."

And yet, as grief has marred what should be the best season of his career, he has stood by his teammates, and they have stood by him. But not just his teammates. Not just his friends. The entire Notre Dame community has massed behind him.

"I've never seen anything like it, really," Swarbrick said. "The mutual embrace is so strong. It's not just that the athlete gives himself to the community, but that the community finds ways to demonstrate how much affection they have for the athlete."

It was never more apparent than on Sept. 22, as the Fighting Irish faced Michigan, hours after his girlfriend's burial. As Te'o noted, they closed the casket at 9:01 in California, as the Irish were going through their walkthrough. He saw the time. He took a moment.

That night, Notre Dame responded. In the stands, thousands of fans were wearing leis. They had them around their necks. They were swinging them on their fingers. They stood out, a tangible show of love and support. It was an effort undertaken by them, not by the school, not by the athletic department.

"That's when I knew," Te'o said. "It was the confirmation that, 'Hey, that leap of faith you took four years ago, this is why you came here. This is why I sent you here.' "

Back in Hawaii, his parents, Ottilia and Brian, watched the broadcast, tears escaping their eyes.

"We realized that Notre Dame not only appreciated him as a football player, they appreciated him as a man," Brian said. "They appreciated him as Manti."
"Notre Dame is a very spiritual place," Te'o said in an interview with the Deseret News. "It's a place where you can practice your faith, whatever faith you believe in."
He addressed the difficulty of dealing with grief.
"Although the times are still hard, I have a lot of moments to myself where I break down, I find strength and comfort and peace in knowing I will see (Lennay) and all my loved ones again," Te'o said in a radio interview with Jim Rome. "Until that day comes, I'm going to keep doing what I can to ensure that does happen."
In an Oct. 3 press conference, Te'o further explained his new found insights:
"I think if anything, this experience has truly humbled me and has strengthened my relationship with my Heavenly Father," Te'o told the members of the media. "I've always said that if I'm on God's team, I can't be beat. If I'm on God's team, there is nobody that can stand against me. Losing my girlfriend and losing my grandma have really strengthened my relationship with my Heavenly Father, and I've felt his presence in my life. I hope that has shown by the way I have played and the way I have conducted myself on and off the field. I hope to continue that through the season."

Dallin Lewis, a Notre Dame graduate student who teaches an LDS institute class in South Bend, says everybody in the community loves Te'o.

"People have always respected his game, but he particularly endeared himself to the school and the community when he decided to return for his senior year," Lewis wrote in an email. "Leading one of the best defenses Notre Dame has seen in years, despite the tragic loss of his grandmother and girlfriend, has really won over the hearts of students and fans."

Academically, Te'o carries a cumulative GPA of 3.2 and is enrolled in the College of Arts and Letters as a design major.

Spiritually, Te'o is active in his local LDS ward and occasionally invites nonmember teammates to worship services.

"Our team is very faith-based. We understand who our Heavenly Father is and who the Lord is," Te'o said. "Guys have come to church with me and experienced Sunday (meetings). It's been a great experience."
While helping the Fighting Irish to an undefeated record of 12-0, Te'o, who was the senior defensive captain, led the team in tackles, interceptions and fumble recoveries. He was also featured on the cover of Sports Illustrated. The team will compete for the BCS championship game on January 7, 2012.
In the Miami Herald, columnist Joseph Goodman concluded: "Te'o isn't just the most outstanding player in the country this season, he's the heart and soul of everything we want the sport to be, a glimmer of hope amid the scrap yard of moral and educational decay that is college football."
This article was written by Jan Mayer, a member of The Church of Jesus Christ of Latter-day Saints.