For forty days before Easter (excluding Sundays in the count), some Christians celebrate Lent in preparation for the Easter celebration. It began in the fourth century as a two-day celebration and gradually lengthened to its current forty days. Many also give up something they love during Lent and others use it to abandon a sin permanently. Some also fast during a portion of the time, abstaining from food but taking in liquids. It is a time to remember the sacrifices the Savior made by making their own sacrifices.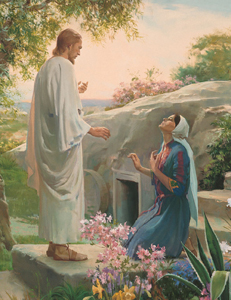 Although Mormons do not celebrate Lent, the basic principles of Lent are a regular aspect of Mormon life. Mormon is a nickname for members of The Church of Jesus Christ of Latter-day Saints and Mormons honor the atonement year-round. Easter is an important aspect of the Mormon calendar.
Each Sunday, Mormons take the Sacrament (communion) in remembrance of the atonement of Jesus Christ. As it is passed to the members, they are encouraged to think about the Savior and the sacrifices He made for us.
Once a month, Mormons who are physically able to do so fast for a full day. This is a complete fast without food or liquid, and covers two meals and all snacks during that time. This is normally done the first Sunday of each month. During this time, they are encouraged to pray and study, drawing closer to the Savior as they sacrifice physical comfort. The money saved by not eating is then donated to a special fund called a Fast Offering that is used to care for those members of their congregation who are in need. By going hungry for a day, they are able to prevent others from going hungry at all.
Sacrifice is an important part of Lent and of the Savior's life. A Mormon apostle said:
"The incomprehensible suffering of Jesus Christ ended sacrifice by the shedding of blood, but it did not end the importance of sacrifice in the gospel plan. Our Savior requires us to continue to offer sacrifices, but the sacrifices He now commands are that we "offer for a sacrifice unto [Him] a broken heart and a contrite spirit" (3 Nephi 9:20). He also commands each of us to love and serve one another—in effect, to offer a small imitation of His own sacrifice by making sacrifices of our own time and selfish priorities. In an inspired hymn, we sing, "Sacrifice brings forth the blessings of heaven." (Dallin H. Oaks, "Sacrifice," October General Conference, 2012.)
The scripture reference in this quote is from the Book of Mormon, which Mormons use as a companion book to the Bible. This book contains a great deal of discussion about the atonement of Jesus Christ and the role of sacrifice in the Christian life. Mormons believe that sacrifice should be a part of everyday life.
One way Mormons sacrifice is by serving God through the Church. Because the Mormons have a lay church, all work is done by volunteers, and the extensive programs require many workers. Nearly everyone has at least one calling and the roles are changed frequently to give everyone a variety of ways to serve. This requires sacrifice of time, and some callings, such as the roles of bishop (lay pastor) or Relief Society president (leader of the women's auxiliary) require a great deal of time.
Another way Mormons sacrifice is by the paying of tithes. The Bible calls on us to donate a tenth of our increase to God and Mormons believe this commandment still holds true, since the Bible says that not paying it amounts to stealing from God. In addition, they make other donations to the humanitarian aid program, which helps non-Mormons around the world who are in need, educational programs, and various other initiatives.
Mormons commit to eliminating many worldly things from their lives all year long. They avoid sexual immorality, immoral media, alcohol, tobacco, coffee, and other things the Lord has asked them to forgo. Since they live in the world surrounded by many of these things, it is sometimes a sacrifice for them, particularly in their teen years or when they are new to the church.
Elder Oaks said, in the talk referenced above:
"I believe that Latter-day Saints who give unselfish service and sacrifice in worshipful imitation of our Savior adhere to eternal values to a greater extent than any other group of people. Latter-day Saints look on their sacrifices of time and means as a part of their schooling and qualifying for eternity. This is a truth revealed in the Lectures on Faith, which teach that "a religion that does not require the sacrifice of all things never has power sufficient to produce the faith necessary unto life and salvation. … It [is] through this sacrifice, and this only, that God has ordained that men should enjoy eternal life."
Just as the atoning sacrifice of Jesus Christ is at the center of the plan of salvation, we followers of Christ must make our own sacrifices to prepare for the destiny that plan provides for us."
About Terrie Lynn Bittner
The late Terrie Lynn Bittner—beloved wife, mother, grandmother, and friend—was the author of two homeschooling books and numerous articles, including several that appeared in Latter-day Saint magazines. She became a member of the Church at the age of 17 and began sharing her faith online in 1992.