When Suzette Steward was nominated for the national "Top Teacher Award" in conjunction with the Live With Kelly and Michael morning show, it was obvious she made a big impact on those around her.   The award the result of a nationwide search of public and private schools from Pre-K through 12th grade; the Top Teacher program aims to honor teachers who make a difference in and out of the classroom.
An Exemplary Teacher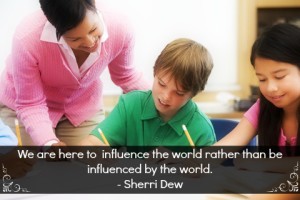 Written by Lisa Clements and placed on the show's website, the submission about Suzette is sincere and telling:
Suzette is a unique, awesome, amazing person, teacher and friend. She grew up in the Katy area and returned after college to interact and teach our "special" kids. She teaches Special Education Kids at the Junior High School during school hours, but it doesn't stop there.

Suzette saw the "NEED" for these kids to have a "fun" place to go and expand their social skills and abilities as well as increasing their academic standings. She opened a camp for the kids which she runs on holidays, weekends and summers when she is not teaching. In her "spare" (NOT) time she is also very involved with Special Olympics in our area. During the Houston Livestock Show and Rodeo, she found a friend that opened up their Cookoff Tent to our kids and allowed them to come be a part of a Huge Tradition in the Houston area and have the chance to ride rides, see livestock, meet real cowboys, watch roping, etc.

There is not minute of her life that she is not working or helping the Katy Kids. When she happens to have a weekend she could use for herself, she gives parents of "our" special kids the chance to have a break. She will bring our kids into her home and entertain them while the parents take a much needed vacation of their own.
Steward teaches at Cinco Ranch Junior High School in Katy, Texas.  She works with special needs children and has special programs for the students, including those children with Autism.
The camp founded by Steward is called Camp Journey, a camp for children like her students.
LDS Living writes,
Now a teacher of nine years, [she] spends weekends and summers working outside the classroom with her students. She runs camps that teach her students life skills, like how to go to the store or to the movies. She even takes kids for six to eight hours Saturdays to give the parents a much-needed break.
Award Winning Special Needs Teacher
Steward went on to clinch the win including: a trip for two to Tahiti, five eInstruction interactive instruction systems for her classroom, a 2014 Ford Escape, and $25,000 for Cinco Ranch Junior High School. As KTRK News in Texas reported:
A special needs teacher in Katy was named the top teacher in the country by ABC's daytime TV show 'Live with Kelly and Michael.'

Everyone at Cinco Ranch Junior High cheered as teacher Suzette Steward won the national honor. Kelly and Michael made the announcement Tuesday morning live on their show.
Steward was unaware of her nomination until she made it to the top 12 finalists. After being selected as one of the top five finalists, she flew to New York on May 2nd to appear on the Live with Kelly & Michael show.
The Gospel Gave Her Dedication
Steward is a member of The Church of Jesus Christ of Latter-day Saints (often mistakenly called the Mormon Church).    She is a graduate of Brigham Young University – Idaho and has expressed that her knowledge of the gospel is what drives her to help these students:
A woman of devout faith and personal conviction, she explains her dedication to her students: "Having the gospel, I feel like we have a different understanding of why we're here on earth and what these individuals' purposes are here. I feel that the more I can help and the more I can be with these children, the more I can be an example to others around me to show that acceptance and show that understanding of love and compassion and patience that we all need to have in our lives."
LDS Living goes on,
"The journey to get to this moment was long," [she] explains, "I've always wanted to be around kids with disabilities and adults with disabilities and to be able to help them become better members of our society. It's always been something that I love to do. I connect with these individuals, and they have a special place in my heart." After graduating from BYU-Idaho with a degree in recreation leadership and a minor in health science, [she] concluded that she could run her recreation programs in the summer and spend the rest of the year teaching the students she so loves.
The Church of Jesus Christ Provides Disability Resources, Love
The Church of Jesus Christ of Latter-day Saints has a strong belief in loving and helping those with disabilities.  Church doctrine teaches that we are children of God no matter our circumstances and that we must serve one another.
The Church of Jesus Christ (LDS or Mormon) provides great resources for both disabled persons and the general membership of the Church.   These resources are intended both as assistance as well as education about disabilities.
Mormonnewsroom.org reported on this wide array of resources:
Church leaders have long encouraged members to value and welcome those with disabilities. In 1989 the First Presidency issued a statement urging increased awareness, understanding, acceptance and appreciation of those with disabilities, asking members to "help them feel respected, loved, and understood" and stating, "It is [the members'] opportunity and … responsibility to follow the example of Jesus in loving our neighbors.

Christopher Phillips, Disability Services manager, says the Church is continually looking for better ways to meet the needs of people with disabilities. "We want everyone to feel welcome and included in Church services and programs, so we try to provide resources to help," Phillips said.

Those resources are compiled on the Church's disability website, disabilities.lds.org, available in 10 languages. The site provides information, guidance and teaching helps for members with disabilities, families, teachers and leaders. Among the resources is a list of Church materials provided in a variety of accessible formats, including braille, audio, captioned video, American Sign Language and large print. The Church also strives to make its buildings and facilities around the world accessible to people with disabilities.

Phillips said beyond providing resources, the greatest need the Church strives to meet is to help members demonstrate love, respect and understanding toward individuals with disabilities.
Church Recognized for Positive Portrayals of Members With Disabilities
The Church of Jesus Christ has even been honored with the 2013 AAPD Image Award for "outstanding work in mass media which positively change public perceptions and opinions about people with disabilities."
The award came in response to the well known, "I'm A Mormon" Campaign which features videos of real Mormons from all around the world.   Many of the Mormons featured are disabled persons who offer a genuine look into their lives and their outlook on disability as well as their faith.
The award recognizes the Church's representations of members with disabilities in its "I'm a Mormon" campaign profiles on Mormon.org.  AAPD President and CEO Mark Perriello called the profiles "powerful," and said, "They tell the disability experience in a way that is real, no apologies, and it's absolutely astounding."

Ron Wilson, senior manager of Mormon.org, accepted the award and received a standing ovation from the audience. He said the goal of the campaign was to provide a glimpse into the lives of Mormons from all over the world, which naturally included members with disabilities.

"Mormons come from all paths of life, geographies, ethnicities, personal challenges, and abilities, but we are bound together by a common belief in Jesus Christ and a desire to follow His teachings," Wilson said.
And that is an attitude that church member and special needs teacher, Suzette Steward, exemplifies every day.
Mormon.org Profiles of Members with Disabilities: