Thirty years ago The Church of Jesus Christ of Latter-day Saints (often inadvertently referred to as the Mormon Church) began missionary efforts in Haiti. To commemorate that milestone and the progress made since then, The Church of Jesus Christ headed up a massive, nation-wide project that will bring beauty and life back into Haiti, a country still recovering from the devastating earthquake in January 2010.[1]
Tree-Planting Project Should Bring Hope to Haiti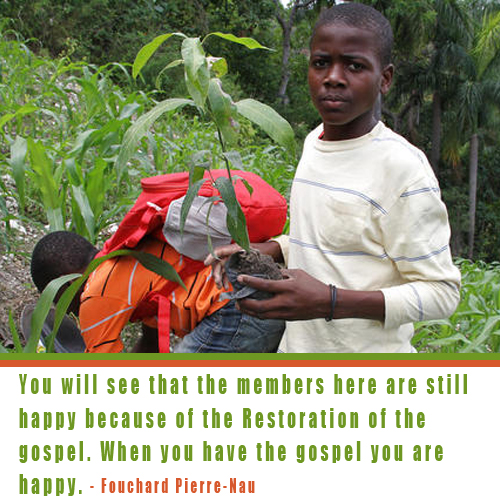 The Church of Jesus Christ has organized a tree-planting project to help restore beauty back to Haiti after its shattering earthquake in 2010. The Church procured about 400,000 saplings and obtained the help of local Mormons to plant them all over the country. The planted trees include lemon, orange, papaya, and coconut, and will eventually be able to contribute both shade and food to Haitian communities.
Trees were also planted in areas that had undergone deforestation. Planting trees in these areas will go a great way to bringing even more beauty back into the land and help to end erosion of top soil. The tree-planting project has also brought hope to many Haitians, regardless of their religion.
Trees Bring Haitians Together
Famfan Jean Arnold, a Mormon and native Haitian, talked about his experience planting the trees. He expressed the need to not keep the trees for themselves, but rather the importance of spreading out the beauty all over the country. The trees were purchased locally and then picked up by volunteer groups and transported to various parts of the country for planting. Mormons planted trees in both urban and rural communities. The Church of Jesus Christ initiated this project not only to beautify the recovering country, but also to reaffirm their commitment to Haiti and its people.
Haiti Still Recovering
Haiti has not fully recovered from the catastrophic 2010 earthquake. Over 220,000 people died, and countless more lives were affected and forever changed. Three years after the quake, Haiti hosts newly paved roads and never-before-seen streetlights, but the country still has a long way to go to full recovery.
The tree-planting project headed up by The Church of Jesus Christ is a meaningful reminder that the world hasn't forgotten Haiti's pain. Hope is still alive and healing still possible. Those involved in planting the trees all over the country have expressed how meaningful it has been to make a difference in their homeland.
Mormons in Haiti have held fast to their faith during this time of crisis and recovery. One of the promises of The Church of Jesus Christ is that through the Savior and Lord Jesus Christ, there is always the promise of relief and of better days ahead. Because of this tree-planting project, Haiti is finally starting to see a glimpse of those better days.
Learn More About Mormon Humanitarian Aid.
About Charlotte Wilson
Charlotte graduated from Brigham Young University with a bachelor's degree in English, with an emphasis in editing. During her education she interned with the Neal A.Maxwell Institute for Religious Scholarship, BYU Publications, and the New Era magazine. Charlotte currently lives in Portland, Oregon, with her husband and son. She's a stay-at-home-mom and has been able to keep up her writing through maintaining a personal blog (smallandtrivial.blogspot.com).