American Mothers, Inc. named Stephanie Williams McKnight the 2013 California Mother of the Year. At 25, Stephanie is the youngest mother to ever win the award. Stephanie's age isn't the only thing that makes her unique, however; she's also a member of The Church of Jesus Christ of Latter-day Saints (a faith often inadvertently referred to as the Mormon church). Stephanie wasn't always a Mormon, though. She joined The Church of Jesus Christ when she was 21 and had to dive in head first. [1] 
Stephanie McKnight Was Already Preparing for a Family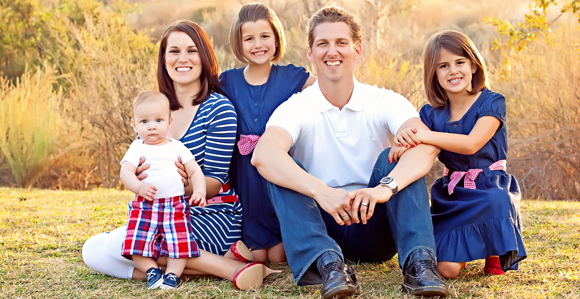 Even before her membership in The Church of Jesus Christ, Stephanie was preparing her life for a family. She pushed through college at California State University-San Bernardino, working and taking more than the recommended credit hours, to graduate with her master's in education degree at age 22. While she was completing her formal education, she was baptized into The Church of Jesus Christ when she was 21. "[School] was a very busy time," she says. "Looking back, I see that it was a total prompting from the Spirit to get me in the right place at the right time."
Stephanie connected easily to the priority that The Church of Jesus Christ places on the family. Being a mom had always been a dream for her, because her own mother was a wonderful example of motherhood. One year after her baptism, Stephanie married Mitch McKnight, another Mormon who had two daughters from a previous marriage.
What Stephanie's Up to Now
Four years later, Stephanie and Mitch have two more children and a whole farm's worth of dogs, chickens, and quail. She never knew that her life would lead her to rural California, but she wouldn't have it any other way. She and her family use their animals to establish their self-reliance and build up their food storage. The McKnight children also take part in caring for the animals' needs.
After serious prayer and discussion, Stephanie and Mitch decided to homeschool their children. In addition to other benefits to their family, homeschooling gives Stephanie an opportunity to actively apply her teaching degrees and also allows her to incorporate gospel lessons into the curriculum.
She focuses her family on Christ and seeks out opportunities to teach the gospel through scripture stories and application. "I don't want to just tell them, 'No, it's not right to be unkind,'" she says. I also want to tell them why from a biblical perspective."
The Church Still Plays a Big Role in Stephanie's Life
Stephanie and her family attend the Romano Oaks Ward in California and has developed lasting friendships among the other members of the congregation. Because she's a convert Stephanie is a pioneer in her family when it comes to parenting in the gospel. She finds strength, encouragement, and perspective from the women she interacts with in Relief Society, the women's organization of The Church of Jesus Christ. Her visiting teachers have provided wonderful examples of gospel mothering that Stephanie has found inspiration in.
Stephanie's greatest desire is that her children will always know that she focused her life on Jesus Christ. Her road to motherhood was not easy or conventional, but through the power of her faith in the Savior, she has learned how to build a Christ-centered home and family.
About Charlotte Wilson
Charlotte graduated from Brigham Young University with a bachelor's degree in English, with an emphasis in editing. During her education she interned with the Neal A.Maxwell Institute for Religious Scholarship, BYU Publications, and the New Era magazine. Charlotte currently lives in Portland, Oregon, with her husband and son. She's a stay-at-home-mom and has been able to keep up her writing through maintaining a personal blog (smallandtrivial.blogspot.com).