Think about what it feels like to come home after a long day. Think about that relaxation you feel as you enjoy a hot shower and climb in a comfy bed with clean sheets. Now think about how you would feel if you didn't have a bed, a shower, a home. Refugees from around the world come to the United States with practically nothing. The US has programs in place to help refugees start a life here, but the stipends given those refugees aren't enough to cover all the costs of starting over from scratch. That's where the The Church of Jesus Christ of Latter-day Saints comes in (this faith is often inadvertently referred to as the Mormon Church).
Deseret Manufacturing, a company owned by The Church of Jesus Christ, donates beds and bedding to refugees settling in Utah. Deseret Manufacturing works together with Salt Lake City's Catholic Community Services, the International Rescue Committee, the Refugee Immigrant Center – Asian Association of Utah, and the Utah Department of Workforce Services refugee office.[1]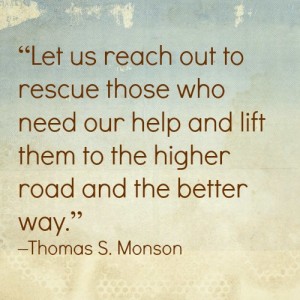 Working Together to Lift Up Others
Starting over in a new country and culture–especially when coming from traumatic circumstances–is not easy. These organizations work together to make that transition and settlement easier. Amy Wylie, an inner-city service missionary for The Church of Jesus Christ, explains, "All of the agencies have a piece that combines to create a safety net for the refugees. The challenges are so wide and so varied that if we didn't work together, people would fall through the cracks. . . . We have an opportunity to help them reclaim their lives in a safe and productive environment."
Refugees do receive beds and bedding to give them a start to furnishing their new physical homes from The Church of Jesus Christ. The other partnering organizations in these efforts help to provide housing, medical, educational, and emotional support to the resettled refugees. The Church of Jesus Christ is very involved in addressing the specific needs of refugees and employ many service missionaries to the areas where refugees settle.
Case workers with the Catholic Community Services–often themselves former refugees–work with newcomers and teach them how to function in the United States. Case workers help refugees with everything from learning to navigate public transportation to figuring out public education to shopping at the grocery store. Refugees are also given access to English as a Second Language (ESL) programs, because adapting to life in the United States is seriously hampered without a functional knowledge of the English language.
Partnered with the government and local school districts, The Church of Jesus Christ's Humanitarian Center offers various job training programs that pay refugees to learn English and work at a job. This work program allows refugees to not only gain employable skills but also gives them opportunities to network and make important connections within the community.
The welfare program of The Church of Jesus Christ also provides assistance to refugees who need help buying food and other necessary living items.
Unity through Christ-like Service
The most remarkable thing about these programs is that people from all walks of life and belief systems are coming together to help people in need. Mormons, Catholics, and others in various Christian denominations are uniting to serve others all in the name of Jesus Christ. When Christ lived on the earth, He spent His ministry serving and teaching. He took time to talk to people. He went about graciously serving wherever He went. And we should strive to do the same.
Salt Lake's efforts to give its refugees a second chance at life is evidence of communal Christ-like love and service. Through these organizations, thousands of refugees are finding and making a home, when they otherwise would have fallen through the cracks. The mission of our Savior was centered on love, and as we make that same love the focus of our own efforts and choices, we can each make an important difference in the lives of others.
About Charlotte Wilson
Charlotte graduated from Brigham Young University with a bachelor's degree in English, with an emphasis in editing. During her education she interned with the Neal A.Maxwell Institute for Religious Scholarship, BYU Publications, and the New Era magazine. Charlotte currently lives in Portland, Oregon, with her husband and son. She's a stay-at-home-mom and has been able to keep up her writing through maintaining a personal blog (smallandtrivial.blogspot.com).