When you take a look at the Olympic athletes, you see many–if not most–who have trained since early adolescence at the least. Late-coming athletes are rare in the Olympic village. Eric Neilson, however, defied the norm and represented Canada in skeleton even though he started training in the sport when he was already 25 years old.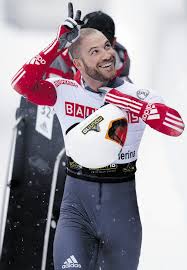 source
A Taste of Skeleton
Neilson had his first glimpse of skeleton in 2006 when his friend convinced him to attend a talent ID camp in Vancouver after the city was selected for the 2010 Winter Olympic Games. Neilson's build and other physical qualifications convinced officials to recommend him for further evaluation in Calgary. After he tried skeleton for the first time, he loved it and devoted all his extra time to training and learning the sport. Neilson spent two years commuting between Victoria and Calgary for training before he committed to training full-time in Calgary.
After his third year of full-time competition, Neilson qualified for the 2011-12 Canadian World Cup team. He concluded the season by finishing three times in the top-10, rankings which included setting a career-high ranking at fifth place. In the 2012-13 World Cup season Neilson finished with seven top-10 placements. His best accomplishment was placing fourth in the 2013 World Cup Championships in St. Moritz.[1]
Competing in the Olympics
Despite his relatively late arrival to the sport, Neilson qualified to represent Canada on the Olympic skeleton team. He came in 13th overall in the men's skeleton competition and finished with a combined time (over four runs) of 3 minutes, 48.77 seconds, which was only 4.48 seconds behind the gold medal time.[2] Given Nielson's talent and dedication to the sport, we won't be surprised to see him in South Korea in 2018.
Eric Nielson is a member of the Victoria 1st Ward, Victoria British Columbia Stake of The Church of Jesus Christ of Latter-day Saints (a faith often inadvertently referred to as the Mormon Church). He works as a mail carrier for Canada Post.
About Charlotte Wilson
Charlotte graduated from Brigham Young University with a bachelor's degree in English, with an emphasis in editing. During her education she interned with the Neal A.Maxwell Institute for Religious Scholarship, BYU Publications, and the New Era magazine. Charlotte currently lives in Portland, Oregon, with her husband and son. She's a stay-at-home-mom and has been able to keep up her writing through maintaining a personal blog (smallandtrivial.blogspot.com).