Though we live in a time of incredible opportunity, impoverished neighborhood cultures still influence people's views on success.  Negative influences can hamper a family's economic development for generations.
Some analysts are very pessimistic about cultural trends in low-income communities and their impact on mobility. In Coming Apart, Charles Murray describes the sharp decline in poor neighborhoods of four "founding virtues" linked to economic improvement: industriousness, honesty, marriage, and religiosity. He and others also worry that the growing homogeneity of both rich and poor communities means those at the bottom are less likely to encounter upwardly mobile neighbors and positive social norms. Robert Putman sees such trends as trapping people in a low-achieving social class. Indeed, it should be no surprise that being raised in a neighborhood where it is accepted that few complete high school, or work steadily, or delay childbearing until it is economically viable, depletes the motivation to complete the steps needed to make it to the middle class. True, some do overcome such cultural stickiness. But NYU's Patrick Sharkey observes that an upbringing in a very poor, segregated neighborhood is likely to have dire, multigenerational impacts. Stuart M. Butler
Another factor can help people "unstick" themselves and raise their sights. Joining themselves with a religious community whose doctrines and principles align with principles of success can give them new vision about their own status in life.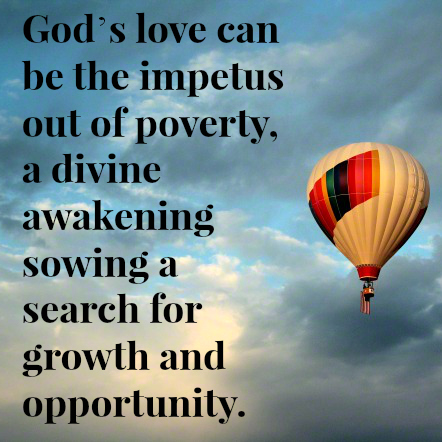 The Church of Jesus Christ of Latter-day Saints (often inadvertently called the "Mormon" Church) teaches principles of spiritual and temporal salvation.  Faith in Jesus Christ propels you to act as He would act and to follow His teachings.  Among the most basic of the Savior's doctrines are truths of the divinity of the soul and the abundant nature of Heavenly Father who is the God of the universe.  "Our Father which art in heaven, Hallowed be thy name" (Matthew 6:9) and "…we are the offspring of God…" (Acts 17:29).  The Lord promised divine aid when asked! "And all things, whatsoever ye shall ask in prayer, believing, ye shall receive" (Matthew 21:22). God's love can be the impetus out of poverty, a divine awakening sowing a search for growth and opportunity.
His truths are sound advice for self-reliance. Pay an honest tithing. Live within your means. Save a portion of earnings.  Use time wisely. Develop skills and talents. Practice self-control and fortitude. Obtain an education. Be grateful and optimistic.
The following videos highlight Latter-day Saints who found abundance and success through the Gospel of Jesus Christ while honoring their roots.
About Delisa Hargrove
I am a member of The Church of Jesus Christ of Latter-day Saints. I have moved 64 times and have not tired of experiencing this beautiful earth! I love the people, languages, histories/anthropologies, & especially religious cultures of the world. My life long passion is the study & searching out of religious symbolism, specifically related to ancient & modern temples. My husband Anthony and I love our bulldog Stig, adventures, traveling, movies, motorcycling, and time with friends and family.