Leopold Anthony Stokowski, one of the leading conductors of the early and mid-20th Century who is best known for his long association with the Philadelphia Orchestra, said, "A painter paints pictures on canvas. But musicians paint their pictures on silence." And the famous German composer and pianist, Ludwig van Beethoven, stated, "Music is the mediator between the spiritual and the sensual life."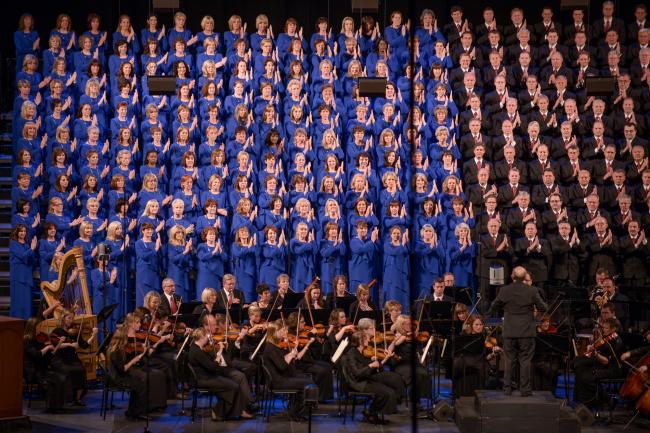 These acute statements without question could be used to accurately describe the delightful music that people the world over experience whenever they hear the Mormon Tabernacle Choir and Orchestra at Temple Square perform. Through their melodious sound, a listener is transformed into a virtual Picasso as he is able to paint beautiful pictures on the canvas of his mind which gives vitality to what he hears.
Those who love this music will be pleased to know that the world-renowned, 360-voice Mormon Tabernacle Choir has announced their summer 2015 concert tour. Accompanying the choir on the tour will be 68 members of the Orchestra at Temple Square. Their repertoire will include everything from Bach and Broadway to American folk hymns and spirituals. Ron Jarrett, president of the choir, has commented, "There is nothing quite like hearing the choir live in concert. We love going on the road to connect with our audiences on the Eastern seaboard who will experience the pure joy music can bring to the hearts and minds of its listeners."
The tour begins on 24 June 2015 and concludes on 7 July 2015 with stops in Bethesda, Maryland; New York City, Saratoga Springs, Bethel Woods, New York and Boston, Massachusetts. Tickets are now on sale for the concert to be held in Bethesda. More information about specific dates, venues, and ticket prices can be found by visiting the choir's website.
About Keith L. Brown
Keith L. Brown is a convert to The Church of Jesus Christ of Latter-day Saints, having been born and raised Baptist. He was studying to be a Baptist minister at the time of his conversion to the LDS faith. He was baptized on 10 March 1998 in Reykjavik, Iceland while serving on active duty in the United States Navy in Keflavic, Iceland. He currently serves as the First Assistant to the High Priest Group for the Annapolis, Maryland Ward. He is a 30-year honorably retired United States Navy Veteran.