Missionaries for The Church of Jesus Christ of Latter-day Saints are called to serve in many different locations throughout the world. Some are called to serve in areas not far from their hometown and are able to teach in their native English, whereas others are called to serve in faraway lands where they must learn not only a new language, but a new culture and lifestyle as well. Such was the case for Tylan Glines, Connor Peck, Davis Blount, Jake Mingus and Sumner Mahaffey, five returned missionaries for The Church of Jesus Christ of Latter-day Saints who served their missions in the Philippines. Although their missions may have been challenging at times, the life lessons that they learned and their new-found knowledge has made a major impact on their lives.
The Idea of Making a Video in Bisava is Born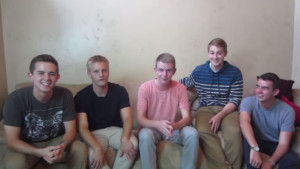 The five young men served in the Philippines Cebu Mission where they learned to preach the gospel in Bisava, a dialect of Cebuano. The Filipino people that they interacted with were astonished that they had taken the time and effort to learn their language which was a rarity. This gave Mahaffey and Mingus, who were companions at one time during their mission, the idea about making a short, single video of them speaking Bisava. Later, at a mission conference, they presented the idea to Glines and Blount, who were also companions at the time, and Peck. They all agreed that it was a great idea, but with a year left on their missions, they decided to shelve the idea until a later time.
In 2014, after returning home from their missions, they decided to revisit the idea of creating a video in the Bisava language. The first video that they made was an introductory video where each of them took turns introducing themselves, and talking about their interests and hobbies. The entire video was in Bisava.
According to Blount, although that first video was not earth shattering by any means, it was well received and amassed hundreds of views, which encouraged them to create more comedic videos. Mahaffey commented on what made the video so successful:
It was so successful because they had never had entertainment in their own language. We were trying to put out good, wholesome, clean entertainment to help them, and once we started doing that, we got these messages saying, 'Thank you so much for making us proud to be Bisaya people,' and that is what kept us going. We want to make them as happy as they have made us.
The Hey Joe Show Comes to Life
Filipinos are well-known for referring to Americans as "Joe," and everywhere they went while on their missions they would always be greeted with "Hey Joe!" So, they decided that their channel should be called Hey Joe Show. Peck further commented:
We really, really wanted to go back to see the people and really interact with them, not just through videos but person to person. There's a big difference. Especially with the kinds of things we wanted to express with the Hey Joe Show, like our love for the country, our love for the people, all those things we really wanted to do in person.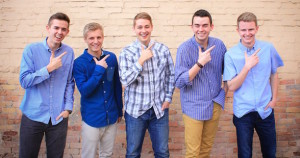 Glines organized Hey Joe Show's first tour, and in April 2015, the young men returned to the areas where they had previously served their missions and performed five live shows in five different cities. Prior to their first show neither of them really knew what to expect. They had set a goal of at least a couple hundred people showing up for the shows, with realistic expectations of maybe 25 people actually coming to the shows. Much to their amazement, an estimated 5,000 people were in the audience of their first show. Glines remarked, "It was exciting because we love the people so much and to know that we are now even more permanently tied to the country that we love and served with was so exciting."
In addition to the live shows, the five returned missionaries spoke at firesides and had the opportunity to visit families they had taught and served with on their missions. Glines further commented, "The love is incredible, and I hope we can, by the end of our lives, explain or show the Filipinos how much we love them. The tour kind of did that, but I still don't think they will ever know how much we love them."
The Future and Hey Joe Show
Since creating their YouTube channel on 27 April 2014, the Hey Joe Show has garnered almost 60,000 subscribers and over 5 million views, with each video getting anywhere from 7,000-540,000 views, and more than 451,000 likes on Facebook. With the overwhelming success of the show, Tylan, Connor, Davis, Jake, and Sumner plan to continue making videos and hopefully do another tour next summer. Their ultimate goal is to collaborate with charities and schools in the Philippines and perpetually serve the people they love. Beyond the Hey Joe Show, the five Brigham Young University students have hopes for graduate school, marriage, families of their own, and promising careers.
About Keith L. Brown
Keith L. Brown is a convert to The Church of Jesus Christ of Latter-day Saints, having been born and raised Baptist. He was studying to be a Baptist minister at the time of his conversion to the LDS faith. He was baptized on 10 March 1998 in Reykjavik, Iceland while serving on active duty in the United States Navy in Keflavic, Iceland. He currently serves as the First Assistant to the High Priest Group for the Annapolis, Maryland Ward. He is a 30-year honorably retired United States Navy Veteran.