It's not unusual for President Dieter F. Uchtdorf, second counselor in the First Presidency of The Church of Jesus Christ of Latter-day Saints (Mormon or LDS) to talk lovingly of his homeland, Germany. But when he was presented the Order of Merit of the Federal Republic of Germany on October 30, 2012, he was surprised and humbled to "receive this unexpected distinction."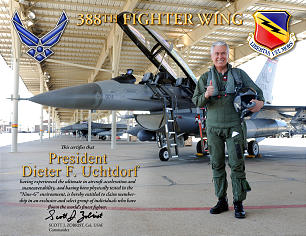 The award is the only federal decoration of Germany. It is given as a tribute to those who have achieved exceptional accomplishments of service, charitable work and distinctive social, political and scientific contributions.
German Consul General Dr. Bernd Fischer presented the award and praised President Uchtdorf for his lifetime of service and leadership, according to an article in the Deseret News.
"For his service in the field of aviation and his selfless service to his worldwide community, it would be sufficient to qualify him for this special award," said Dr. Fischer. "But together, his service in The Church of Jesus Christ of Latter-day Saints, his community service, and his service and leadership in the field of aviation, we are three-times pleased to present this award to President Uchtdorf."

"He has always shown the flag of Germany to the world," Dr. Fischer said. "Everywhere he goes, he is known as 'The German among us,' as he spreads good will and comfort to millions across the world. He is a marvelous ambassador of good will and hope to those with whom he speaks."
President Uchtdorf was born in Nazi-occupied Moravská Ostrava (now Ostrava, Czech Republic) but around the age of ten his family fled to West Germany when his father was considered a dissenter. His grandmother met an LDS Church member in a soup line, and his family joined the LDS Church when he was very young.
He studied Business Administration in Cologne, Germany, and graduated with an MBA from Institut pour l'Etude des Methodes de Direction de l'Entreprise (today the International Institute for Management Development) in Lausanne, Switzerland. In 2009 he received an honorary doctorate in International Leadership from Brigham Young University.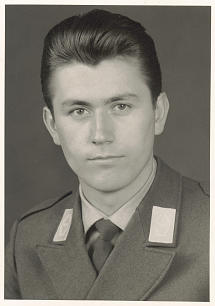 President Uchtdorf joined the German Air Force in 1959, but through a cooperative effort between the US and Germany, he received his pilot wings in Big Spring, Texas, and fighter pilot training in Phoenix, Arizona, where he earned the prestigious Commander's Trophy (USAF) as the best student pilot in his class. He joined Lufthansa German Airlines and worked as an airline captain for 26 years.
When he was called as a General Authority for the LDS Church in 1994, he was the senior vice president of flight operations and chief pilot of Lufthansa German Airlines and chairman of the Flight Operations Committee of the International Air Transport Association. He also served as a board member for several government and business executive committees.
President Uchtdorf married Harriet Reich on December 14, 1962. They are the parents of two children and have six grandchildren and permanently reside in the United States. While they were raising their family in Germany, President Uchtdorf served as a stake president twice and was called to be an apostle in 2004 by President Gordon B. Hinckley.
Guests at the award ceremony included LDS Church President and prophet, Thomas S. Monson, President Henry B. Eyring, first counselor in the First Presidency, Sister Harriet Uchtdorf and other members of the Uchtdorf family, Utah Governor Gary Herbert and his wife, Jeanette, and German consular officials.
This article was written by Jan Mayer, a member of The Church of Jesus Christ of Latter-day Saints.
About Keith L. Brown
Keith L. Brown is a convert to The Church of Jesus Christ of Latter-day Saints, having been born and raised Baptist. He was studying to be a Baptist minister at the time of his conversion to the LDS faith. He was baptized on 10 March 1998 in Reykjavik, Iceland while serving on active duty in the United States Navy in Keflavic, Iceland. He currently serves as the First Assistant to the High Priest Group for the Annapolis, Maryland Ward. He is a 30-year honorably retired United States Navy Veteran.