Since the qualifying age for Mormon missionary service has been lowered, more Mormon youth are postponing college attendance in order to serve missions.
Areas of the world where there are a lot of Mormons have noticed a change in some of the graduating high school seniors of the class of 2013. Many youth have been postponing their college education to serve missions for The Church of Jesus Christ of Latter-day Saints (a faith often inadvertently referred to as the Mormon Church). This phenomenon was preceded by an official announcement by the leaders of The Church of Jesus Christ in October 2012, where the age requirement for serving full-time missions was lowered for both men and women. As a result, many Mormon youth graduating high school this year have opted to serve missions before diving into their college careers.
The Church of Jesus Christ Lowered the Missionary Age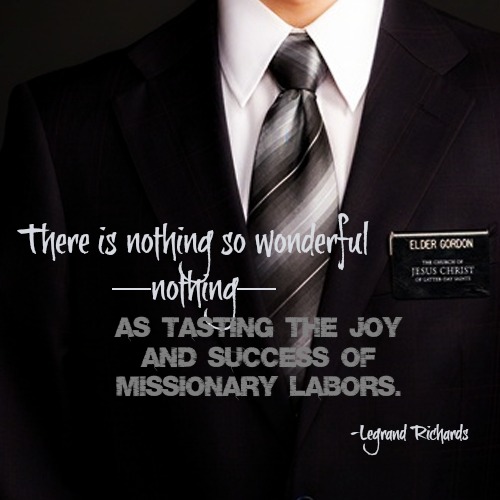 In October 2012 during the semiannual worldwide conference held by The Church of Jesus Christ, the prophet and president of the church, Thomas S. Monson, announced that the age requirements for missionaries would be lowered to 18 for men (previously 19) and 19 for women (previously 21). Soon after, local church leaders around the world fielded calls from excited prospective missionaries ready to begin the application process.
One young man impacted by this change is Nathan Anderson, who recently graduated from Providence High School in Charlotte, North Carolina.  Now 18, Nathan has decided to serve his mission before dedicating his time to college. Before the age change, it was common for graduating seniors (especially young men) to attend a year of college, go on their missions, and then finish up their education after they returned. With the new age requirements a college education need not be fragmented.
Nathan, who excelled in high school and was accepted to Brigham Young University (a school owned and operated by The Church of Jesus Christ), is excited about his decision to serve his mission first. He was assigned to go to an area in Brazil for the two-year duration of his mission.
How the Age Change Has Impacted the Missionary Force
The change in age requirements for missionary service has already impacted the missionary force of The Church of Jesus Christ, with the new policy not even a year old. The most obvious impact is in sheer numbers of missionaries serving. In the weeks following the historic announcement, missionary applications sent to Salt Lake City (headquarters for The Church of Jesus Christ) increased from 700 per week to 4,000.[2]  At around 56,000 missionaries when the announcement was made, The Church of Jesus Christ expects to see about 85,000 missionaries serving by the fall of 2013.
There are also more women serving missions because of the lowered age requirement. Missionary service is not a responsibility for women, as it is for men. Women have never been discouraged from serving, but they also shouldn't feel required by the Church to go. When the service age was at 21 for women, fewer women decided to submit their application papers. By this point for many women, they were already deeply involved in their education and had no more interest, and many women were already married by that point. With the age requirement lowered by two years, many more women will be able to more easily fit missionary service into their life plans. Young men will also be able to focus more on college from the start, without having to interrupt their education to serve their missions.
Missions Create Better and Stronger Young Adults
The world as a whole will also benefit from this age change. Not only will it see more missionaries spreading the gospel of Jesus Christ, but it will note a generation of young adults more mature and grounded than their contemporaries. Missions require great sacrifice, dedication, and discipline from those who choose to serve.
Missionaries keep to a strict regimen and daily structure and are expected to remain focused on their work at all times. Even contact with their families is limited to keep missionaries focused on serving God and spreading the gospel. When missionaries return home, not only are they older and (hopefully) wiser than when they left, but they have also developed critical life skills that will carry with them through college, a career, and family life. Returned Mormon missionaries have a unique spiritual perspective and know how to involve God in their daily lives. They are disciplined and focused on performing the work of their Father in Heaven. With people like this in our countries and communities, society can't help but feel the positive impact these former Mormon missionaries can have.
Now that young men and young women can serve their missions earlier, they will be learning these skills earlier as well. Missionary service is a difficult responsibility, one that requires much out of its participants. But the sacrifice involved in missionary work yields personal and spiritual growth beyond what any other experience could offer a newly graduated high school senior. Some may say that youth shouldn't postpone their college educations for anything, but The Church of Jesus Christ understands better. By serving missions, Mormon youth will grow up in ways that might take their classmates several years to accomplish. By choosing to serve the Lord above all else, Mormon missionaries will be blessed not only on their missions, but in their educations and careers following their missions.
About Charlotte Wilson
Charlotte graduated from Brigham Young University with a bachelor's degree in English, with an emphasis in editing. During her education she interned with the Neal A.Maxwell Institute for Religious Scholarship, BYU Publications, and the New Era magazine. Charlotte currently lives in Portland, Oregon, with her husband and son. She's a stay-at-home-mom and has been able to keep up her writing through maintaining a personal blog (smallandtrivial.blogspot.com).