Every year since the rankings began, Brigham Young University has been named the most stone-cold sober university in the United States by Princeton Review. This is their sixteenth year of being the most alcohol-free school in the country and the world has taken note that the students celebrate their placement on that list. They are proud that they don't need alcohol to have fun. They are creative and smart enough to know how to have fun that won't lead to humiliation, headaches, or other challenges that come from entertainment that involves getting drunk. When they wake up in the morning they remember exactly what they did and know they were in control of their behavior. This allows them to avoid ruining their futures (or even dying) because of stupid choices made under the influence of alcohol.
A lot of teens, and even adults, think they can't have fun unless they are drunk. When you work hard to value yourself and to know who you really are, you can have fun without being drunk or immoral at all. Old-fashioned fun is inexpensive and, in the long run, has more benefits. Mormon teens (members of The Church of Jesus Christ of Latter-day Saints, as the church is officially known) learn at a young age how to have fun in simple events as well as complex ones they aren't afraid to let their parents know about.
Can You Have Fun Without Drinking?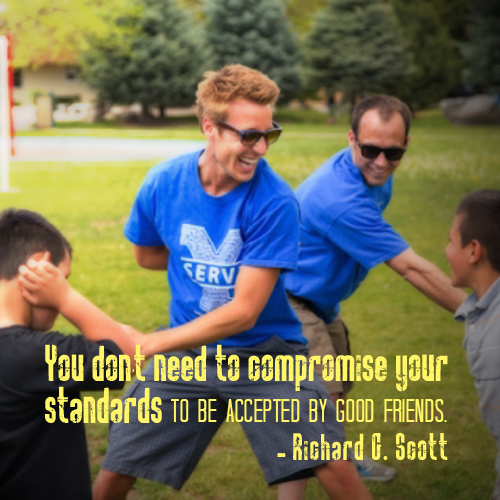 When I was in college, a friend admitted he didn't understand how I could have any fun given the rules under which I lived as a Mormon. Although I hadn't been Mormon very long, I'd always avoided alcohol and enjoyed old-fashioned fun. I mentioned having gone on a hayride in which everyone sang to music played by other students who knew how to play the guitar. He didn't think that sounded like fun, but I pointed out to him that my entertainment that weekend hadn't left me hung over and suffering the next day as his did. I woke up the next morning and went right on to my next fun activity.
Having fun without getting drunk or in trouble requires a little planning and creativity, but that is half the fun. Mormon teens and young adults get even more socialization in while they're getting together to dream up their next activity. Brigham Young University students are experts at having fun in a clean way. Watch this video of the world's largest water balloon fight. Admit it—you'd love to have been there. Since no one was drunk, the activity didn't get out of hand and no one got hurt, killed, or arrested. They just had fun.
What Mormons Do for Fun
BYU had another activity that looks a little weird to me, but it is pretty clear the students were having a great time. If I liked sports, I probably would have enjoyed this one. It's called Zorb Ball Soccer. Zorbing turns people into hamsters, letting them roll around in a giant see-through ball like the ones your pet hamster uses.  Zorbing for hamsters started in the 1970s, but over the next few decades, people began experimenting with the idea for humans, deciding, I guess, that hamsters shouldn't get to have all the fun. In the 1990s, someone named the balls zorbs and created a franchise for it. People climbed inside the balls and rolled on level ground or down small hills.
However, at BYU, they treat it like a sport and play soccer with people inside these zorbs. You really don't want to be drunk when you're doing this, since it could be a little dangerous, so it's most safely played at a school with a reputation for being stone-cold sober.
Every now and then flash mobs make the news, often accompanied by editorials on how some young people lack discipline or respect. These flash mobs sometimes involve destructive behavior, but another type of flash mob has emerged and Mormons love it. They go somewhere (with permission) and entertain visitors with music and good clean dancing. Sometimes the dancing is complex and other times it is simple. Since some Mormon teens love to dance and others aren't very good at it, the simple routines allow everyone to participate. Watch this video of a flash mob that was organized by adults, but that allowed teens to teach their peers the dance. They spent the whole summer perfecting it and the video has gone viral. Be sure to click over to the "making of" video to see what went into doing this—they made it look easy, but it wasn't.
Of course, not all Mormon fun is organized. Mormon teens get together informally all the time to play board games, watch movies, practice dance moves, make a meal together, and even do service projects. When they do a service project, they not only wake up without a hangover, they wake up feeling good about themselves because they made the world better yesterday.
Try it. Ask some Mormon kids to let you tag along when they're having good, clean fun. Participate with an open mind and let yourself see how it feels to have fun without getting into trouble. Once you get used to it, you may discover your old ways of having fun are pointless and a lot less satisfying than you thought. After all, who really wants to give up control of their minds and behaviors? Stay in control—and break out the chocolate milk, as BYU students do to celebrate being the most stone-cold sober students in the country. Everything is better with chocolate.
About Terrie Lynn Bittner
The late Terrie Lynn Bittner—beloved wife, mother, grandmother, and friend—was the author of two homeschooling books and numerous articles, including several that appeared in Latter-day Saint magazines. She became a member of the Church at the age of 17 and began sharing her faith online in 1992.