Whitney Permann, Brooke Stone, and Soni Muller are three musically-talented moms who love to share their faith and testimony through the gift of music. They are members of The Church of Jesus Christ of Latter-day Saints (inadvertently referred to as the "Mormon" Church by the media and others) and have had music as a part of their lives since a very early age. Together they create the beautiful melodic sounds of the group known as Mercy River.
They have been a part of the music scene for a few years, and to date they have three successful recordings on Deseret Book record label Shadow Mountain Records to their credit, "Mercy River" (May 2008), "Beautiful Dawn" (March 2010), and "Higher" (February 2012). Even though they love singing and making music, family is a big part of each of their lives – in fact, the most important part of their lives – and among them, they have 13 children.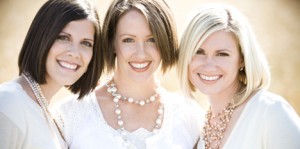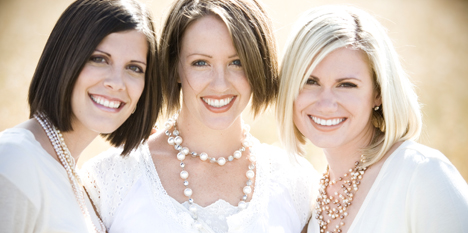 "We are thrilled at the response we've had to this music," group member Brooke Stone said. "The songs are so full of joy. Joy in the gospel. Joy in the world around us. Joy in our hearts. We love to sing and we're excited to see where this River takes us." [1]

"If we keep our family first, things will fall into place," said Brooke Stone who sings the high harmonies when not tending to her three children in Layton. [2]
The River Continues to Flow
The three friends first met while singing in a choir at a fireside in which Jenny Phillips, best-selling LDS musician and producer, was the guest. It was there that they "found a common love for tight harmonies and sharing the gospel through song." [1] Phillips wanted to write and produce music suited for a trio and personally chose Permann, Stone, and Muller as the trio to perform her music.
For the past 5 years, Mercy River has performed for thousands of people throughout the United States and Canada, testifying of the Savior in song and spoken word. Each member brings a wealth of knowledge and experience to the group having performed, written, and directed hundreds of firesides and concerts. They have also recorded on dozens of inspirational albums.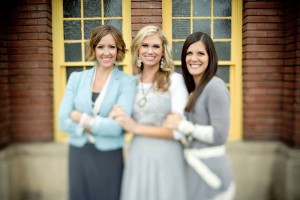 Family above Everything Else
Although they love to sing, the musical trio maintains that their top priorities are being a mother and a wife. Their singing career has a lower priority in their lives. Because of their faith and their beliefs, they know that family will far outlast any success they may obtain in the music business.
"It took me a long time to commit," said Permann, a Spanish Fork mother of five who sings the lowest harmonies in the group. If she decided to become part of the trio, all of sudden she wouldn't be just a singer any more, she said. She would be an artist.

Stone, though, was enthusiastic from the get-go, and Muller, a Bountiful mother of five who serves as the tonal center, remembers thinking, "Oh, I get to sing more." [2]
It is interesting to note that one of the songs on their newest release "Higher" is titled "With Him We Can" which is perhaps the capstone of their testimony that they can do all things through Christ who strengthens them. They know and realize that as long as they remain faithful, they will be able to achieve higher goals and aspirations in their lives.
About Keith L. Brown
Keith L. Brown is a convert to The Church of Jesus Christ of Latter-day Saints, having been born and raised Baptist. He was studying to be a Baptist minister at the time of his conversion to the LDS faith. He was baptized on 10 March 1998 in Reykjavik, Iceland while serving on active duty in the United States Navy in Keflavic, Iceland. He currently serves as the First Assistant to the High Priest Group for the Annapolis, Maryland Ward. He is a 30-year honorably retired United States Navy Veteran.