Kenneth Va'a Niumatalolo, an American football coach and former player, was born on 8 May 1965 to Lamala and Simi Niumatalolo in Laie, Honolulu County, Hawaii. He was the fifth of seven children. Both of his parents were born in American Samoa. His father, Simi, retired from the U.S. Coast Guard and later worked in food services at the Polynesian Cultural Center. His mother, Lamala, passed away on Thursday, 5 September 2013.
Niumatalolo was promoted to Head Football Coach at the United States Naval Academy located in Annapolis, Maryland, on 8 December 2007 by Naval Academy Director of Athletics Chet Gladchuk. He is the second person of Polynesian descent to be named head coach of a NCAA Division I Footbal Bowl Subdivision (FBS) college football program and the first Samoan collegiate head coach on any level. He was inducted into the Polynesian Football Hall of Fame on 23 January 2014 in Honolulu, Hawaii.
From Starting Quarterback to Promising Coaching Career
Niumatalolo graduated from Admiral Arthur W. Radford High School in Honolulu, Hawaii, in 1983. During his high school days he exhibited his prowess in athletics by excelling in both basketball and football.
After high school, he attended the University of Hawaii in Manoa where he played college football and eventually became the starting quarterback for the Rainbows (now the Rainbow Warriors) after returning from a two-year full-time Spanish speaking mission for The Church of Jesus Christ of Latter-day Saints in the Ventura, California, area. During his time with the Rainbows he ran an option-oriented offense under the direction of Paul Johnson, who was then the offensive coordinator, and led the team to their first postseason bowl game in 1989. After graduating from the University of Hawaii, Niumatalolo stayed on as a graduate assistant under Coach Johnson, and by 1992, he had been promoted to the full-time assistant position.
United States Naval Academy Football – The Beginning Years
In 1995, Coach Paul Johnson left Hawaii to become the offensive coordinator at Navy and took Niumatalolo with him as his running back coach. The following season, Johnson left the Naval Academy to take a head coaching position at Georgia Southern, and Niumatalolo was elevated to take his position. During his time as offensive coordinator, he tutored quarterback, Chris McCoy, who in 1997, set a Division I-A record for rushing touchdowns by a quarterback with 20 touchdowns. The record would not be broken until a decade later, in 2007, by Florida's Tim Tebow. On 12 December 2009, at the annual Army-Navy football game, Navy quarterback Ricky Dobbs reclaimed the record with  24 touchdowns in the 2009 season.
Niumatalolo left the Naval Academy in 1999 to become an assistant coach at the University of Nevada, Las Vegas for three seasons (1999-2001). While there, he called the plays (2001) and worked with the kickoff return unit. Under his guidance, UNLV ranked sixth in the nation in kickoff returns in 2001 and finished second in 1999.
Return to the Naval Academy and Ready for Action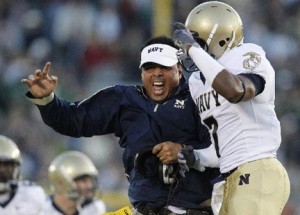 In 2002, Coach Paul Johnson returned to Navy as the head coach and hired Niumatalolo as his offensive line coach. Niumatalolo soon proved himself when in four of his first five seasons he established a rushing attack that led NCAA Division I-A/FBS in yards per game, which included an unparalleled three consecutive seasons (2004 – 2006) of leading the nation in that category. In 2008, Navy once again led the nation in the number of yards per game with an average of 292.4 yards per game on the ground.
The rushing attack strategy which Niumatalolo had established helped Navy football to realize a level of success that it had not seen in decades. With Johnson as the head coach and Niumatalolo as the offensive line coach, Navy maintained a record of 45-29 and appeared in a bowl game every year from 2003 through 2007, Johnson's last season in Annapolis. During the same period, the Midshipman won the coveted Commander-in-Chief's trophy every year.
Coach Johnson left the Naval Academy for Georgia Tech in 2007, and Niumatalolo became the 38th head football coach in Naval Academy history when he was promoted to the position by Naval Academy Director of Athletics Chet Gladchuk on 8 December 2007. On 7 January 2009, Niumatalolo was given a contract extension, although the terms and length of the extension have not been released to the public.
With Coach Niumatalolo at the helm, commencing with the 2008 season, the Navy football team has continued their run of success and have been able to accomplish things that have never been done in the 132-year history of the Navy football program. According to his profile on Navy Sports, the official website of Naval Academy athletics:
Niumatalolo's 49 wins are the most in school history by a coach in his first six years and rank third all-time at Navy, just six wins behind the all-time leader George Welsh.

He led Navy to a 10-win season in 2009, which tied for the most wins in school history, and he is the first coach in program history to lead Navy to a bowl game in each of his first three seasons. He is also the first Service Academy coach to win the Commander-In-Chief's Trophy in his first two years as a head coach.

This past fall, Niumatalolo was selected to the inaugural class of the Polynesian Football Hall of Fame and was inducted on January 23 in Honolulu.

Niumatalolo is just the second coach since World War II to lead Navy to a winning record in each of his first three seasons at the helm and joins Eddie Erdelatz and Wayne Hardin as the only Navy coaches to beat Notre Dame in consecutive seasons. He and Paul Johnson are the only coaches in Academy history to start their careers 6-0 against Army.

Navy finished the 2013 campaign with a 9-4 record, won the Commander-In-Chief's Trophy for the ninth time in the last 11 years, qualified for a bowl game for the 10th time in the last 11 years, won a bowl game for just the eighth time in school history (beat Middle Tennessee, 24-6, in the Bell Helicopter Armed Forces Bowl) and defeated Army for a series-record 12th-consecutive year. The 2013 squad is just the fifth in Navy history to win at least nine games in a season, beat Army and win a bowl game. The 1957, 1978, 2004 and 2009 teams are the only other teams to have achieved that feat.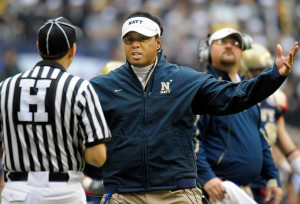 Highlights of his first season as head coach (2008) include: an upset in Winston-Salem over #16 Wake Forest, 24–17, the Midshipmen's first victory over a ranked team in 23 years, and a 34–0 shutout victory over Army. Other Highlights of Niumatalolo's career as head coach at Navy include:
Navy has defeated Army every season (six times). The Midshipmen have won 12 straight Army–Navy Games which is the longest winning streak for either Navy or Army.
The Midshipmen captured the Commander-in-Chief's Trophy in 2008, 2009 and 2012, with an outright capture of the trophy in 2013 when they defeated the Army football team with a score of 34–7.
The Midshipmen have had five winning seasons. They have played in 5 bowl games during Niumatalolo's tenure, and were victorious in the 2009 Texas bowl and the 2013 Armed Forces Bowl.
Navy defeated longtime rival Notre Dame in 2009 and 2010. This was the first time that Navy has defeated Notre Dame since 1963.
For the Love of Family
Coach Niumatalolo and his wife Barbara live in Annapolis, Maryland and have 3 children, a daughter, Alexcia, and sons, Va'a and Ali'i. He and his wife first met at a dance when she was a student at BYU-Hawaii and he was recently returned from his mission in Ventura, California.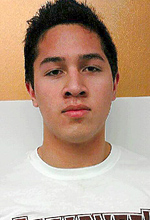 His son, Va'a Niumatalolo, is a 2011 graduate of Broadneck High School in Annapolis, Maryland. While there, the 6'1", 226 pound athlete demonstrated his own sports prowess on the football field by playing the position of Inside Linebacker for the Broadneck Bruins. He is currently a freshman at Brigham Young University in Provo, Utah, where he plays the position of Linebacker for the BYU Cougars. Va'a is also an Eagle Scout and served a full-time mission for The Church of Jesus Christ in St. George, Utah.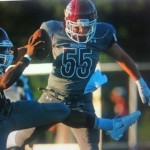 Ali'i Niumatalolo is currently a junior at Broadneck High School. The 6'2', 226 pound athlete is also making a name for himself as a Middle Linebacker for the Broadneck Bruins' varsity football team.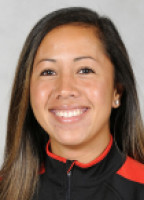 Alexcia Niumatalolo, the oldest of the children, was enrolled in the College of Letters and Sciences while attending the University of Maryland. She is also a star athlete in the sport of lacrosse. It is noted that she chose the University of Maryland because she wanted to play for the most prestigious lacrosse team in the country and also because of the excellence of the coaching staff. While at Maryland she played the position of starting defender for the Maryland Terrapins and was recognized as a Division 1 Athlete.
Her father states that she showed an interest in sports at an early age. She did not start playing lacrosse until her freshman year at Broadneck High School, but it was the fundamentals that her extremely competitive father helped develop at home that paved the way for her future success. He further commented:
I didn't want to push her, but I wanted her to play sports," Ken said. "Thankfully for her, she enjoyed it. She enjoyed playing basketball and soccer and always wanted a ball in her hands. … She was always very athletic, even at a young age – things kind of came naturally to her.
Alexcia further commented, "He would coach me all the time and set up drills for me. Everything with him was always competition."
Faith Precedes Football
Coach Niumatalolo is a member of The Church of Jesus Christ of Latter-day Saints. He and his family are members of the Broadneck Ward of the Annapolis Maryland Stake.
The day that he was named head coach at Navy, his life and that of his family dramatically changed, in that they went from living in a humble home on the Naval Academy grounds to a more spacious home which was once occupied by some of his predecessors. However, the success that Niumatalolo has been able to achieve has not deterred him from living a life that is based on faith and gospel principles, and it is also that faith and those principles which he uses as the patriarch of his home to help keep his family well grounded.
In 2013, Zach Barnett met with Niumatalolo to ask him a few questions. One of the questions that Barnett asked was, "With your players' time so much in demand, does that create a longer work day for you or a perhaps a shorter work day?" to which Niumatalolo responded:
My number one title is not the head football coach at the Naval Academy, my number one title is being a husband and a father. I read all the time about guys monitoring their players and stuff and I think that's fine, making sure they're going to class and all those things. That's important. I've always thought, if you're monitoring your players 24 hours a day, who's monitoring your own family? Who's watching your own kids? I make sure that we're not burning the midnight oil here. I feel like we can be efficient in our work hours here. We're probably more of an early morning staff, guys get here a little bit earlier but I want guys to go home after practice. I want them to go home and see their families. They can do their recruiting stuff at home.

I go to conventions all the time and I hear all these coaches talk about some of the regrets they've had in their careers, and these are all great coaches that have accomplished a lot of great things, and a lot of them mention, "I wish I'd spent more time with my family." I don't want that regret. I'd rather at the end of the day look yourself in the mirror and be like, "You know what? I was able to be a father and a husband." And I want my coaches to have that same opportunity. To me, family time is very important. I've always taken this approach: if it takes you 24 hours to watch tape and you've been in the film room all day, how are your kids going to figure it out in a 45 minute meeting? You've just got to make sure it's not that complicated, try to keep things simple. Don't get me wrong, we're working. We work early. I want to make sure our guys are efficient and go home and be a father and a husband.
Missionary work is near and dear to Coach Niumatalolo's heart and he is often asked questions about The Church of Jesus Christ of Latter-day Saints, which he is always ready and willing to answer. However, he does not believe in forcing his beliefs on anyone, especially players.
In a Deseret News article dated 2 September 2011, he commented:
Being the head coach you have a captive audience, but it would not be right for me to push anything besides the principles of teaching and coaching football to my players. They can believe in what they choose. We all have free agency. I try to be an example," he said. "That is the way I approach things.
He further commented that if an LDS young man were to ask him advice about whether or not he should pray about serving a mission, his response would be:
Why do you need to pray? The Lord has already told you through his servants what you are supposed to do – you are supposed to go. Prepare yourself and when you are 19, you go. Now, if someone is praying to confirm a mission call, that's different. That's good. But confirmation about going on a mission, you don't need to pray. The answer is yes, so prepare yourself. That is how I feel.
Niumatalolo believes that putting the Lord first and listening to the voice of the Spirit are the real keys to success. He begins each day by reading and studying from the Book of Mormon. In addition to personal scripture study, he also admonishes that devotion to family, church service, and living the gospel have played a major part in his being able to handle the stress and rigors of being a college football coach for almost two decades. As head coach at Navy, he made the surprising decision to cancel all staff meetings on Sundays.
In a Deseret News article dated 28 August 2011, he commented, "For me, growing up as a member of the church, I always knew as long as you are obedient, the Lord will bless you and everything will work out. Gospel principles are universal."
Ken Niumatalolo will be one of six Latter-day Saints who will be featured in the new feature-length film produced by The Church of Jesus Christ of Latter-day Saints called "Meet the Mormons" which will premiere in select theaters on 10 October 2014.
About Keith L. Brown
Keith L. Brown is a convert to The Church of Jesus Christ of Latter-day Saints, having been born and raised Baptist. He was studying to be a Baptist minister at the time of his conversion to the LDS faith. He was baptized on 10 March 1998 in Reykjavik, Iceland while serving on active duty in the United States Navy in Keflavic, Iceland. He currently serves as the First Assistant to the High Priest Group for the Annapolis, Maryland Ward. He is a 30-year honorably retired United States Navy Veteran.