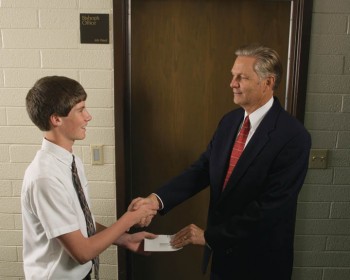 Many people think of sacrifice as an old-fashioned thing.  In the Bible it seems to be something confined to the Old Testament, done away with in Christ's "new law."  When the ancient Israelites failed to qualify to "enter into God's rest," He gave them a "schoolmaster law," which was a law of outward ordinances.  Rituals, and practices, and patterns of religious behavior were all symbolic of the Christ, a preparation for the higher law to come.  When Jesus was offered up, He became the great and last sacrifice by the shedding of blood, and asked us to come unto Him with a broken heart and a contrite spirit, and to place our sins upon the altar.  As we progress, we are also able to place our will upon the altar, and to surrender our lives to His service.
What then of sacrifice?  Sacrifice means giving up something for a higher good.  When one considers the two levels of priesthood, the Aaronic or lower priesthood, and the Melchizedek, or higher priesthood, sacrifice couples with repentance as Aaronic principles.  They are foundational—the floor of the eternal, precious edifice that is the gospel of Jesus Christ.  Upon them, we build on a sure foundation, adding the Gift of the Holy Ghost, our desires to reconcile with God, and our surrender to His will.
In Mormonism, which is the Church of Jesus Christ restored in it's fullness in these last days before His Second Coming, Latter-day Saints exercise the principle of sacrifice in many ways.
Tithing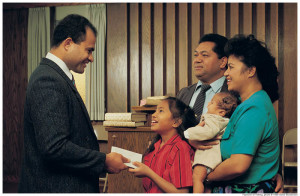 Tithing is by definition one tenth of one's increase, and has always been a law of the gospel.  A person who pays tithing in the proper spirit realizes that all he or she has comes from God, and that all He requests is one tenth in return as an offering.  By living this law, followers of the Savior reap the blessings He has promised to the obedient.  In fact, He blesses us so much, that we are again in His debt.  The paying of tithing is ennobling.  Tithe payers increase in humility, sensitivity to the Spirit, faith, and patience, even as they are blessed line upon line with the doctrines of the kingdom, and even with worldly sustenance.  This is not a prosperity gospel, but a sustenance promise.  Those full-tithe-payers who have faced financial emergencies have been rescued time after time by miraculous means. (more…)