Lindsey Stirling, a member of The Church of Jesus Christ of Latter-day Saints (comminly referred to as the Mormon church), was born in Orange County, California on 21 September 1986, but grew up in Gilbert, Arizona. She is an American violinist, musician, dancer, performance artist, and composer. She presents choreographed violin performances, both live and in music videos, including on her YouTube channel.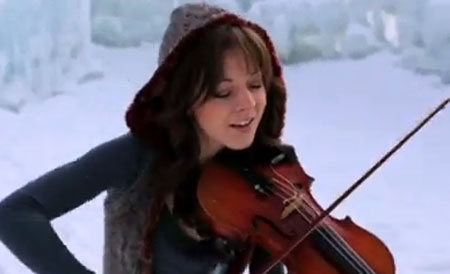 Lindsey had very humble beginnings in learning to play the violin. She recalls that money was tight for her family when she was little, and when her older sister wanted to learn to play an instrument, their father dug out an old dusty trumpet from their attic and told her that if she wanted to play an instrument, that was all they had. At the young age of 5, after being influenced by the classical music records played by her father, Lindsey begged for violin lessons. As she recalls, her parents could only afford a half-lesson. She also recalls, "The teachers were like, 'I'm sorry, but a child isn't going to learn how to play . . . in 15 minutes a week." The family was eventually able to find a young teacher who was willing to teach Lindsey and she took private lessons for 12 years.
At the young age of 16, she joined a rock band with four friends called "Stomp on Melvin." Her experience with the rock band helped her to write a solo violin rock song. Her performance enabled her to win the title of Arizona's Junior Miss in the talent category of the America's Junior Miss Pageant. She was also a member of another band known as the Charlie Jenkins Band.
In high school Lindsey began pushing the limits of her instrument. Playing in a rock band, she says, "was my first step away from classical music." In 2005 her self-composed violin-rock number won second in the national junior miss talent competition. Newspapers called her the first punk rock junior miss. [2]
In 2007, she introduced her YouTube channel, Lindseystomp, named after the "Stomp on Melvin" band that she played in, where she has posted many of her music videos. As of August 2012, the channel has received over 113 million total views and over 700,000 subscribers. Lindsey's music is also featured on Pandora, Spotify, and Last FM. [1]
Lindsey's music style ranges from classical crossover to dance-pop to classical to hip-hop to dubstep. In 2010, after serving a mission for The Church of Jesus Christ to New York City, she became a quarter-finalist on the fifth season of NBC's America's Got Talent, where she was described as the "Hip Hop Violinist." [1] After her awesome performance, judge Sharon Osborne said, "Wow … we love you Lindsey!" and Piers Morgan, another of the judges, called her performance "Electrifying!" [1]
Shortly after her performance on America's Got Talent, cinematographer Devin Graham contacted her in hopes of making a YouTube video together. They agreed to shoot a music video for her song, "Spontaneous Me". It was filmed the week of May 9, 2011. The video boosted Stirling's popularity, and she began making music videos for her YouTube channel regularly. Graham eventually moved to Utah, and they began dating a few days after her "Transcendence" music video was released. They continue to date and Graham films almost all of her videos, while Stirling often does backup camera work and assists with his music videos. [1]
Sales of her subsequent debut iTunes album were feeble, but after posting her first music video on YouTube in 2011, Stirling says, "my music quadrupled in sales overnight." She was shocked. "YouTube did more for me than America's Got Talent. I realized there's something to this." People started paying attention to YouTube's "Epic Violin Girl"—many of her videos filmed by her boyfriend, media arts major Devin M. Graham. [2]
Lindsey's newest music video is a cover of The Phantom of the Opera theme with Provo's Velour Live Music gallery being one of several sets used for the video. If this video is anything like her previous ones, it is predicted that it should receive millions of YouTube views.
Stirling calls herself "a nerd with center-stage syndrome," but in front of this screaming crowd, she's a violin-sawing rock star.

In just one year, Stirling's videos—more than a dozen original songs and several self-arranged covers—accumulated more than 60 million views. Her video Crystallize received more than 3 million hits within four days of its posting and became the most-watched video of the day in YouTube's music category.

The therapeutic recreation senior is unique enough as a dancing violinist, but her appeal goes deeper. Her videos show her rocking electronic and world music in New Zealand, Africa, and Provo. Sometimes she's costumed as a character from Zelda, sometimes she's sporting mismatched knee socks and her signature spiky "peacock" hairdo. Her dance moves—effortless moonwalk, backbends, and leg lifts—complement her wailing violin arpeggios and steep runs. There's nobody quite like her. [2]
Since 2010 Lindsey has released an EP and several singles, with her discography containing both her original work and covers of songs by other musical artists and various soundtracks. She is also a senior at Brigham Young University with studies in therapeutic recreation. She has collaborated with the Salt Lake Pops orchestra and Alex Boye and toured Italy in 2012 with Italian band "The Sidh." She is due to release an album on 18 September 2012, as well as start a U.S. tour in September. She currently resides in Provo, Utah.
Lindsey isn't driven by millions of YouTube views and Facebook fans. She takes satisfaction in showing people that "there aren't limits . . . if you're not afraid to accept yourself for who you are. A lot of people have told me along the way that my style and the music I do . . . is unmarketable. But the only reason I'm successful is because I have stayed true to myself." [2]
By Keith Brown
About Keith L. Brown
Keith L. Brown is a convert to The Church of Jesus Christ of Latter-day Saints, having been born and raised Baptist. He was studying to be a Baptist minister at the time of his conversion to the LDS faith. He was baptized on 10 March 1998 in Reykjavik, Iceland while serving on active duty in the United States Navy in Keflavic, Iceland. He currently serves as the First Assistant to the High Priest Group for the Annapolis, Maryland Ward. He is a 30-year honorably retired United States Navy Veteran.