Devin Graham, a member of The Church of Jesus Christ of Latter-day Saints (inadvertently referred to as the "Mormon" Church by the media and others), was born on 29 July 1983. He currently lives in Provo, Utah, and is well known for his "exotic and extreme YouTube videos." [1] According to a Deseret News article dated 3 April 2013, Graham has filmed "almost every extreme sport Utah has to offer, from human slingshots to water jet packs. Each video has action, friends and what looks to be a massive party. What viewers hardly ever see is Graham." [1]
Living His Dream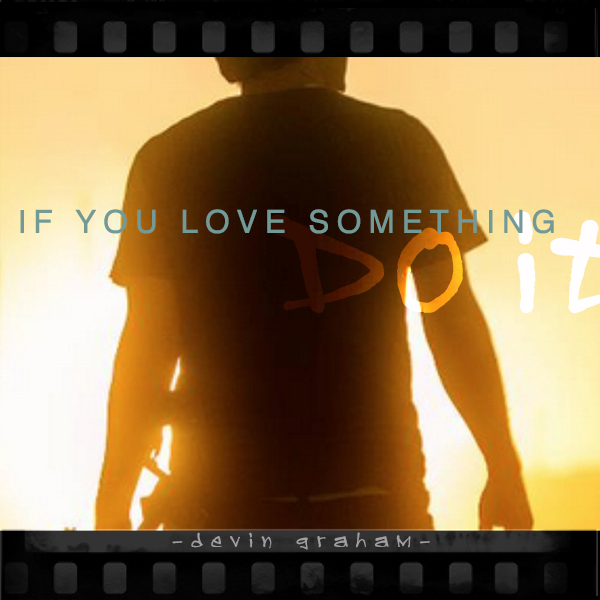 Graham's Facebook bio simply states that he is a filmmaker, but that doesn't even begin to tell the story of his tremendous success in the viral video world. The question that is most often asked of him in the myriad of emails that he receives concerns what he does for a living. To answer that question he recently made a video in which he describes a day in his life.
In the Deseret News article, Graham stated, "This is only the first of many videos I will do covering my story of how I got where I am, why I do it, and what drives me. My goal with any of these videos is to inspire and remind people that if you love something do it, pursue your dreams, don't wait until it's all over, no regrets, seize the day." [1]
Commenting further about the work that he loves, Graham stated:
At this time I'm living my dream of becoming a DP, that's short for Director of Photography, aka the guy behind the camera 🙂 I LOVE IT!!!! I love working directly with the director and actors/models. I have huge hopes, and dreams with this, and I'm doing everything in my power to achieve this, it will happen, it is happening.

I love what I'm doing, and I'm very passionate about it! And I will do whatever it takes to live my dreams! No regrets. [2]
He offers this counsel to everyone who is pursuing their dream:
For all you guys who are thinking of pursuing filmmaking, or being a lawyer, or whatever it is — as long as you're pursuing it and preparing for it way in advance and not just preparing for the weekends, I really believe that anyone can reach those goals and reach those dreams. [1]
Viral Video World Success
At the young age of 30, Graham has gained a huge following that has captured the attention of enough advertisers to enable him to make a substantial living from the work that he does. "The grassroots filmmaker embodies the power of social media in an age where technology has been put into the hands of those who aspire to wield it." [3] However, in keeping with his LDS beliefs, he will not do video work for companies which endorse alcohol and tobacco products.
Among his YouTube videos that have gone viral is his collaborative work with YouTube sensation, Lindsey Stirling, which has resulted in hundreds of millions of views. The entire production of the video was accomplished without the help of a production company, a record label, a recording studio, or a production crew.
Concerning working with Stirling on the video project, Graham stated,
My initial impressions of working with Lindsey, on a professional level are these.. Lindsey is honestly one of the hardest workers that I have ever met, super fun, kind, and also with that one of the most talented people I have ever worked with as well. I had an awesome experience with her, and our goals and passions are very similar, so I think that was one of the many reasons why we clicked so well. [4]
Graham and his roommate, Jeff Harmon, are the masterminds behind the YouTube channel DevinSuperTramp, which to date has over 1 million subscribers and 195 million video views. His extreme sports videos include: World's Most Insane Rope Swing Ever!!! – Canyon Cliff Jump (10 million views), Flyboard – Coolest Water Jet Pack EVER!!! (5.5 million views), and Human Slingshot 2X – Vooray (1 million views). "I essentially try to come up with concepts that go viral. I'm always trying to think of the next big thing," he said. "What determines my success is my audience," he said. "As long as they watch, I can make any kind of movie I want to make, and to me, that's the fun part." [5]
Conquering the Seemingly Impossible
There are some things which just seem unimaginable. For example, who would ever imagine a video being made of YouTube sensations, the Piano Guys, actually performing on the Great Wall of China? However, that is exactly what happened recently when Utah filmmaker, Devin Graham, and the Piano Guys collaborated on a project in which Utah pianist Jon Schmidt and cellist Steven Sharp Nelson of the musical group were featured performing "Oogway Ascends" from the "Kung Fu Panda" soundtrack at that very location. The making of the video is the fulfillment of a dream that seemed impossible, but thanks to the determination of producer and videographer, Paul Anderson, that dream became a reality.
"Yes. That is the Great Wall of China. No. It's not green screen," the website stated. "People laughed at us when we said we were determined to do it."

But it wasn't easy. Permits were required, and there was also the issue of getting the piano in place. With only 12 hours to film, the crew and many locals came together to create the three-minute clip that now has more than 2 million views. [6]
Each week Graham posts a new video on his YouTube channel, and his income comes from ads on the site. Additionally, companies fly him around the world to such places as Africa, New Zealand, Iceland, Tahiti, New York, England and Hungary to shoot videos marketing a product or event.
Graham's philosophy is summed up well in his YouTube handle of Devin Supertramp, a reference to one of his favorite books, Into the Wild.

"In the book, he goes out and pursues his dreams and changes his name to Alexander Supertramp," he said. "It's all about pursuing your dreams and inspiring others to do the same. It's about expressing that whole mentality." [5]
About Keith L. Brown
Keith L. Brown is a convert to The Church of Jesus Christ of Latter-day Saints, having been born and raised Baptist. He was studying to be a Baptist minister at the time of his conversion to the LDS faith. He was baptized on 10 March 1998 in Reykjavik, Iceland while serving on active duty in the United States Navy in Keflavic, Iceland. He currently serves as the First Assistant to the High Priest Group for the Annapolis, Maryland Ward. He is a 30-year honorably retired United States Navy Veteran.