Paul Schoeni, a member of The Church of Jesus Christ of Latter-day Saints (commonly referred to as the Mormon Church), has been very successful in his work in Hollywood working on one colossus movie after another. He is credited with working on such movies as I, Robot, Kung Fu Panda, Monsters vs Aliens, Shrek Forever After, and Megamind and upcoming movies Turbo, and How to Train Your Dragon 2. He is also alum of the Brigham Young University computer animation program.
The animation program at BYU is interdisciplinary and consists of exacting coursework offered through the Department of Theatre and Media Arts, the Department of Visual Arts, and the Ira A. Fulton College of Engineering and Technology's School of Technology.

As a limited enrollment major, animation requires prospective candidates to complete fundamental pre-application courses before submitting an application portfolio for review at the end of the freshman year. Upon acceptance into the program, students must complete several foundation courses in essential areas such as figure drawing, narrative construction, and basic animation skills. Students are then encouraged to enhance this fundamental knowledge through upper-level courses designed to develop their drawing, narrative, and computer skills.

Coursework in the program thus insists upon a sound understanding of and skill in design, composition, storytelling, and current software packages used in the industry today. For prospective majors, prerequisite emphasis is placed on drawing the human figure, visual storytelling and sketch booking from life. [1]
BYU animation professor Ryan Woodward has done storyboard work on the past two summer blockbuster Spiderman movies. Since then he has turned his attention to bringing animation to life on an even smaller screen – the iPad. He is credited with launching a graphic novel built as an iPad App that comes to life with animation playback inside the digital pages of an iPad – the very first animated comic book of its kind.
One such animated story that he has produced is titled "Bottom of the Ninth" which relates the story of a female pitcher who makes her debut in a future version of baseball, 200 years in the future to be exact, in a place called Tao City, where America's favorite pastime has evolved into a gladiator-type event, complete with a vertical infield and artificial gravity to enhance the danger. The story is brought to life by using traditional comic layout that is enhanced with fully animated 2D and 3D animations. With the simple swipe of a finger, readers are able to flip pages or watch short videos inside of story frames. This prologue is the first of ten planned chapters.
"This has the potential of really changing the graphic novel industry and showing the public what we can do with storytelling on an app," Woodward said. "This app will hopefully always be known as the first of its kind – an animated film and a comic book at the same time." [2]
The app which is available in the iTunes App Store may be purchased for use on either the iPad or the iPhone. The creation of the app is the sole work of Woodward. He created, wrote and drew the comic, animated in both 2D and 3D, and executed the motion graphics, compositing and sound. Woodward stated, "I've pulled more all-nighters on this project than I ever have in my life." [2]
Woodward started the project in December 2011 and officially launched the app on iTunes on 21 June 2012. He received the help of several BYU animation and illustration alums in refining some of the design, 3D modeling, and 3D rendering on the project. The graphic novel app also has an original score featuring professional voice actors, including former BYU baseball star and 2-time MLB MVP, Dale Murphy.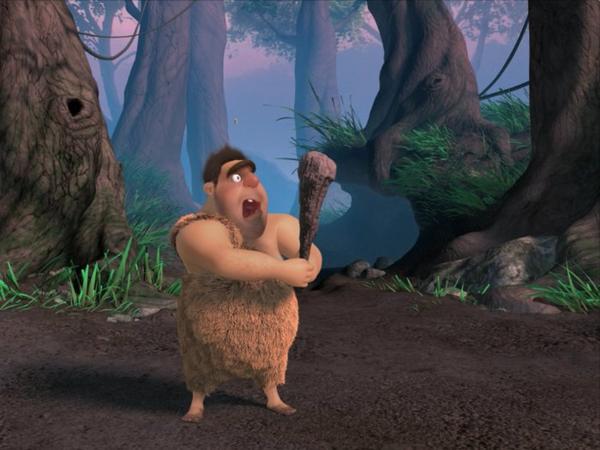 Paul Schoeni, alum of the BYU computer animation program, has also turned his focus and attention to the app world. He is the co-founder of the appropriately named Caffeine-Free.com, which is responsible for creating entertainment apps for the iPad and iPhone. Three of the other co-founders – Ben Sweat, Hyrum Osmond, and Matt Leishman are also Mormons.
The four of them lead very active and productive family and Church lives. Between the four of them, they have 15 children. They also work full-time jobs and have their individual Church responsibilities (three are in Bishoprics and one is Elders Quorum President). They have been working on Caffeine-Free.com and their first app, Club Caveman, for over a year on the side.
Club Caveman and Caffeine-Free have recently gained the attention of several well-respected publications. Wired Magazine said the group is "raising the bar" for story-telling on an iPad. Social Tech, Animation Nation, and Gadget Maven, have also taken notice. [3]
Schoeni said, ""If you want to make movies and be true to the Gospel, the animation industry is a good place to be." [3] "In the three wards in Burbank, many of the new families moving in somehow involved in animation," Sweat said. "We have people at Disney, DreamWorks, and Nickelodeon. It's really fun to see this kind of concentration here." [3]
From the name to the company's color scheme (vintage BYU blue), the influence of the Church and their faith are evident. [3]
"I imagine if Walt Disney were to have created something for this new mobile medium it would have consisted of great animation, great characters and technical breakthroughs," he said. "That's the gist of what we're trying to do, which is very daunting. Sort of David's kid brother versus Goliath, but it's going to be fun trying." [3]
By Keith Brown
About Keith L. Brown
Keith L. Brown is a convert to The Church of Jesus Christ of Latter-day Saints, having been born and raised Baptist. He was studying to be a Baptist minister at the time of his conversion to the LDS faith. He was baptized on 10 March 1998 in Reykjavik, Iceland while serving on active duty in the United States Navy in Keflavic, Iceland. He currently serves as the First Assistant to the High Priest Group for the Annapolis, Maryland Ward. He is a 30-year honorably retired United States Navy Veteran.