When a person hears the words "Imagine Dragons," what might be the first thing that comes to mind? Perhaps they think of a mythological tale of a knight in shining armor defending a beautiful maiden in distress, or an entire village, from fire-breathing, man-eating dragons. That might be the case in a fairy tale adventure, but what about in reality?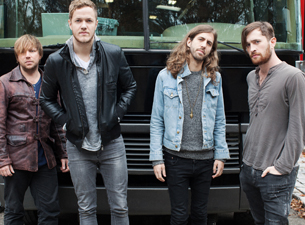 Imagine Dragons is an alternative rock band that may at times claim Las Vegas, Nevada, to be their home; however, their real beginnings are in Utah. Guitarist Wayne "Wing" Sermon was born in American Fork, Utah, and lead singer Dan Reynolds attended Brigham Young University. Both are members of The Church of Jesus Christ of Latter-day Saints (inadvertently referred to as the "Mormon" Church by the media and others). The other members of the band are Ben McKee (bass) and Daniel Platzman (drummer).
The revolutionary sound of Imagine Dragons utilizes electric guitars, a cellist, and a violinist. In a Deseret News article dated 10 September 2012, Sermon commented, "the band feels free to pull in a violin or a cello or an ensemble of acoustic guitars, even a synthesizer, if the song calls for something different."
In a documentary made by BYU about the band's beginnings, the members talk about how they met, how the name Imagine Dragons was chosen, and their purpose for performing their music.
The Sweet Taste of Success
"Following its release, the single "It's Time" had airplay on select major stations. The music video debuted on April 17, 2012, on all MTV affiliates and the band was named MTV PUSH Artist of the Week." [1] The single was nominated for the Best Rock Video award during the 2012 MTV Video Music Awards.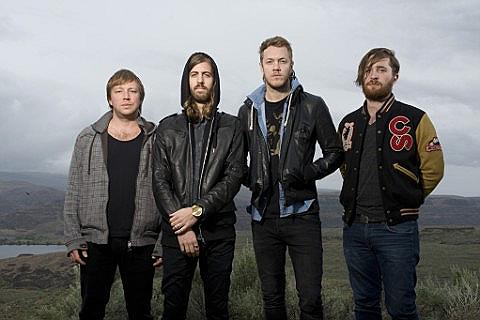 After the release of their debut studio album, Night Visions, on 4 September 2012, the band gained immense recognition and popularity. The album ranked number 2 on the weekly Billboard 200 chart, and following its successful release, the band launched a world tour. They have performed live on several late night shows including: The Tonight Show with Jay Leno, Jimmy Kimmel Live!, Late Night with Jimmy Fallon, The Late Show with David Letterman, and Conan. The band has been named "The Breakthrough Band of 2013" by Billboard, and Rolling Stone named their single "Radioactive" "the biggest rock hit of the year." The single was nominated for the Best Rock Video award during the 2013 MTV Video Music Awards, and won the 2013 Teen Choice Awards Choice Rock Song award.
The band's debut album, Night Visions is currently certified at Platinum in the United States, Austria, Canada, Portugal, and Sweden, having sold over 1.5 million copies in the U.S. alone. The album is also certified gold in multiple countries, including Australia, Britain, Germany, New Zealand, Philippines, and Switzerland. Imagine Dragons has released multiple EPs, including 2009's "Imagine Dragons," 2010's "Hell and Silence," 2011's "It's Time," and 2012's "Continued Silence" and "Hear Me." The band released a live album, Live at Independent Records, in April 2013. [2]
The band was nominated for three awards at the 2013 American Music Awards – New Artist of the Year, Favorite Band, Duo or Group – Pop/Rock, and Favorite Artist – Alternative Rock.
Sermon further commented,
"We try to match sound to song. We like to explore but still be true to our sound. It's a balancing act. We want to be recognizable . . . the band's main goal is to reach people with music that is beautiful at the core in melody, lyrics and structure. . . .We're very much a rhythm kind of band with epic sounds.

"In our case, we got a lot of little starts," Sermon said. But it doesn't matter if we're playing to four or five people in a lounge or in a concert hall, we want to use our music to uplift people. [1]
Lead singer Dan Reynolds states that he "writes song lyrics from a very personal place." He further remarked,
I think we try to write music that takes the listener through a whole range of emotions. Some songs are sad, some are uplifting, some are introspective," he said. "Above all, we try to write music that helps people cope with what can be a very hard life at times. We want to connect with the listener through the only means of communication we understand — art.
Being a Mormon in the Rock Music World
A person might think that being actively involved in a culture such as the rock music world would be extremely difficult for a member of The Church of Jesus Christ. However, Imagine Dragons' guitarist, Wayne Sermon, has said that he does not find it difficult at all. In fact it is his faith and living by the precepts of the gospel of Jesus Christ that help to keep him focused and grounded. In the Deseret News article he commented,
We're different individuals but our band has always been about the music. One thing we all share is we are committed to making music and being a positive force in the world.

Our goal is and has always been the same. We want to reach as many people as possible. We want to go to Europe, to South America, all over the world, bring our music to as many people as we can.
Lead singer, Dan Reynolds, commented,
Our focus is on the music. We didn't choose this career path for fame or parties, but rather to create something that we are all proud of that fulfills our desire to be an artist and to create. We aren't the most eloquent or perfect people, but we just do our best to present something to society that hopefully makes someone's hard day a little bit better.

We have always just had the goal of making a living out of doing what we love. That has been the hope since the very beginning. [1]
The Dream Continues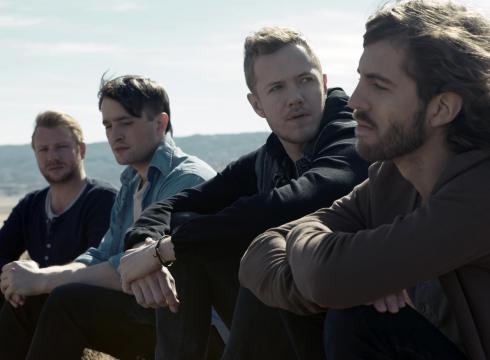 Reynolds further stated that music is all that he has ever known, and all that he has ever wanted to do. He began writing music at the age of 13, and believed then, as he does now, that music can take him to places that he would not otherwise be able to go. This year the band returned to Europe and North America with the Night Visions Tour, announced 13 additional U.S. summer tour dates which also sold out, and then announced a North America Amphitheatre tour.
On 10 November 2013, the band will perform at the MTV Europe Music Awards. On Sunday, 24 November 2013, the band will perform at the American Music Awards Show. In addition to performing their music, members of Imagine Dragons also take time out to help others in need. For example, they have joined with the family of Tyler Robinson to start a charity named The Tyler Robinson Foundation which helps young people battling cancer.
The Tyler Robinson Foundation
In an email to the Deseret News, Shannon and Brent Robinson, parents of Tyler Robinson, wrote, "Tyler was an ordinary 16-year-old faced with an extraordinary challenge of being diagnosed with a rare soft tissue cancer called rhabdomyosarcoma — stage 4." [3] Tyler knew that the diagnosis would change his life, but perhaps what he did not know, is that his story and legacy would touch the lives of many others as well.
At the young age of 12, Tyler had a staff infection that became septic, causing him to spend several weeks in a Children's Hospital in Salt Lake City.  Fortunately for him, at this young age he had begun developing "the resilience that would help him cope with near-death experiences." [3] Four years later he was diagnosed with  rhabdomyosarcoma which is a rare type of cancer most often found in children. At the time of the diagnosis, he was a junior at Brighton High School in Cottonwood Heights, Utah. His treatment required 20 rounds of chemotherapy, an operation, and six weeks of radiation. With such an intense treatment, he would miss his junior year and some of his senior year of high school.
Tyler is a member of The Church of Jesus Christ of Latter-day Saints (inadvertently referred to as the "Mormon" Church by the media and others). In a letter which he shares on the Tyler Robinson Foundation website, he shares some of his feelings about how being a member of The Church of Jesus Christ has strengthened him.
I remember going home and feeling so mad and depressed. I told my mom that I didn't want to go through it — not a whole year of it. My bishop came over that night and gave me a blessing. He told me that people who go through hard things either become bitter and angry, or they learn from it and become stronger. He told me that I had a choice to make. From that night on I chose to be the bigger man.

This year I've learned to be patient, and no matter how bad I felt, I pushed through the pain," he wrote in his letter online. "I found that there is no use complaining or feeling sorry for myself — it doesn't help anything. Always try to stay positive and have faith." [3]
One of the things that helped Tyler get through his arduous treatments was his love for music. Imagine Dragons was just starting to become popular in Provo, Utah and a line from the song "It's Time" which says, "the road to heaven runs through miles of clouded hell" took on a special meaning for him. According to his brother, Cole Robinson, the song became Tyler's theme song.
Not long after Tyler's diagnosis, Tyler's older brother Jesse Robinson let the band know he was bringing Tyler to their concert at the Velour in Provo, Utah. The band dedicated "It's Time" to Tyler. While the band played it, Tyler's brother Jesse lifted Tyler on his shoulders. As Tyler sang along intensely, the band's frontman Dan Reynolds reached out to him, embracing him as they sang together.

In that moment, a bond was forged between Tyler and the band. [3]
Tyler's brother captured the moment on his cellphone and shared the video on YouTube, and the official Imagine Dragons "Demons" music video features the footage.
After the concert and throughout Tyler's treatments, he and the band stayed in contact with one another. Once the treatments were over, he was declared cancer free, but unbeknown to his doctors, the cancer had spread to Tyler's brain, and in early 2013 he unexpectedly slipped into a coma and passed away on 4 March 2013. He was 17 years old. After Tyler's death, the band contacted the family and told them that they wanted to create a foundation in honor of Tyler that became known as the Tyler Robinson Foundation.
From Small Concerts to Grammy Awards Performance
On Sunday, 26 January 2014, Imagine Dragons performed with Kendrick Lamar at the 56th annual Grammy Awards. E! Online commented:
With Kendrick's phenomenal stage presence and Imagine Dragons' energy, this pair gave one of the best showings of the night (maybe ever?!). … Thank you, Kendrick and Imagine Dragons. This is what the Grammys is all about! [2]
The band won a Grammy in Best Rock Performance with "Radioactive," and was also nominated for Record Of The Year with Daft Punk, Lorde, Bruno Mars and Robin Thicke. The award may have come as somewhat of a surprise to the band members, as according to a Rolling Stone magazine article, the band was not confident of winning any awards even though "Radioactive" was the third-biggest-selling track of 2013.
"Let me just say we are definitely not going into this thinking we're going to win a Grammy," lead singer Dan Reynolds said in the article. "We're up for Record of the Year, and 'Radioactive' was a big song. But songs like 'Blurred Lines' were huge. If I were a voter, I'd be like, 'Robin Thicke was at the VMAs with his pin-striped suit, and Lorde is cute — and who are Imagine Dragons? I have no idea what those dudes even look like!' When that's the take, you know you're not going to win that award." [2]
The band members are ever mindful of the people that have helped them to get where they are today, and paid tribute to all of their loyal fans on their Facebook page. The band recently performed for the Beatles 50-year tribute on CBS television.
Additional Resource:
About Keith L. Brown
Keith L. Brown is a convert to The Church of Jesus Christ of Latter-day Saints, having been born and raised Baptist. He was studying to be a Baptist minister at the time of his conversion to the LDS faith. He was baptized on 10 March 1998 in Reykjavik, Iceland while serving on active duty in the United States Navy in Keflavic, Iceland. He currently serves as the First Assistant to the High Priest Group for the Annapolis, Maryland Ward. He is a 30-year honorably retired United States Navy Veteran.